Carnival freak shows thrived on the basis of curiosity. They offered something so ugly and told a tale so horrific, people flocked to them on mass just to see what it was all about. And feel better about the safety in their "normalness" in the process. It's with the same fascination that plays out in Brad Anderson's disturbing tale The Machinist comes to life.
Christian Bale's skeleton plays Trevor Reznik, a machine worker who hasn't slept in over a year. With every day that passes his frail frame becomes smaller and smaller. He's literally wasting away and it's disturbing as hell. The reason for Trevor's insomnia is a mystery but the fallout is somebody dressing up as a bat and hitting the streets to fight crime. Instead he's drinking coffee at an airport café and growing increasingly paranoid.
The weirdness gets even strong as Trevor starts being taunted by the appearance of Ivan (John Sharian), a guy on the factory swing shift who lives on the wild side and has huge teeth. Seems normal enough, which is until the people around Trevor have no idea who this guy Ivan is. So if he real or just a manifestation of Trevor's increasingly scarred mind? Does it really matter?
I've got a rule when watching movies and TV: whenever the idea of sleep is introduced, I don't trust it. Anything can happen and reality can shift. With that in mind, watching The Machinist I was able to get into the paranoia of it all. Anderson does an excellent job of establishing a depressing mood. The color palette is almost black and white in its bleached approach. Vibrant color is at a premium, reflecting the fact that Trevor's vision of the world is becoming increasingly blurred and sterile.
Helping matters is Bale's physical performance. I don't know if he enjoyed the experience of losing so much weight but he certainly did embrace it with his performance. Whereas when one puts on weight for a role, padding is an option. Plus it's fun to eat. But allowing yourself to waste away to the point where you'd expect to see Sally Struthers jump into a scene and talk to a 1-800 number, there's no faking it. Bale doesn't shy from showing his frame off and its freakish look becomes an important part of the film.
When I first saw The Machinist in theaters several years ago, it was Bale's look that I remembered first and the mood second. On second watch, it's the other way around. Bale, who was moving onto superstardom in Batman Begins immediately afterward, became bigger than the movie itself. But now that stardom has come, it's easier to sit back and reflect on the film. Outside forces such as stardom shouldn't tint watching a movie, but it can. So with time as a buffer, it's now easier to see The Machinist for what it is: a labyrinthine leap down the rabbit hole into a nightmarish wonderland filled with paranoia and with a truly gloomy and grim look at memory and personal torture.
The Machinist Blu-ray Review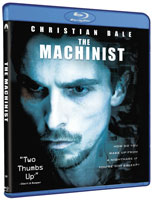 With the visual look of the film so important to The Machinist, the stunning widescreen 1080p high definition picture on the Blu-ray disc does the job. It conveys the drab, murky themes, all the while showing it with tremendous clarity. Audio is offered in several options: English 5.1 Dolby TrueHD, French 5.1 Dolby Digital and Spanish 5.1 Dolby Digital. Subtitles are also offered in English, French, Spanish and Portuguese.
Director Brad Anderson provides an honest and personable commentary track in which he discusses the making of the film, the logistics of it, some of his goals, as well as some commentary on the moviemaking industry. It's definitely an insider's take, but he talks in such a way that he doesn't make himself to be all important, nor does he talk down to the viewer. Shown in HD, "Manifesting The Machinist" is a 23-minute featurette that takes the film from the idea stage with writer Scott Kosar through to filming. "Hiding in Plain Sight" is another featurette shown in HD. Running 14 minutes, it breaks down all the hints the script and the film leave as to the puzzle of the film's subconscious meaning."Breaking the Rules" is another making-of featurette that consists of lots of cast and crew interviews done with very raw, home video-style footage. The Blu-ray also has eight deleted or alternate scenes (two of which have optional commentary) totaling 12 minutes and the film's theatrical trailer.
The Machinist Gallery
Trailer