Princesses, talking animals, magic – all are dandy if there's something else behind it. Disney can trumpet the return of the Disney Princess, traditional animation and whatever else they want, but The Princess and the Frog simply doesn't live up to the high expectations all the hype brought with it. Feeling like a collection of Disney Princess greatest hits with a Southern flair, this latest Disney animated feature may look gorgeous but it's lacking in "magic."
Tiana (voiced by Anika Noni Rose) is a modest girl from New Orleans with ambitious dreams of opening her own swinging restaurant. Through a chance encounter with black magic, she's transformed into a frog alongside Prince Naveen (Bruno Campos), a smooth-talking royal touring America for some fun and the ladies. The pair, at odds from the start, set out to become human once again meeting a trumpet-playing alligator, Southern bumpkin fireflies and a host of other creatures along the way.
Like the one-time all-state quarterback retelling the same game-day stories over and over, The Princess and the Frog feels more like trying to recapture past glories that it does with presenting something new and different. It's a nostalgia picture that reminds us that humans and talking animals can coexist, princesses are precious and dreams do come true (at least for those young girls who dwell in animated fairy tales). And while there are parts that are quite charming and fun, there's unfortunately a lot more that feels far too familiar without much else added.
One of the aspects of the film that I did like was the characters. For the most part, they were a breezy bunch filled with charming wit. Tiana is a fun "princess" whose modest background and big dreams make her easy to connect with and cheer for. She's got more spunk than your average Disney Princess and as a result she's able to hold the film together. As per usual for animated Disney films, the supporting cast often outshines the main players.
Louis, a jazz-loving alligator, is your typical animated supporting star. He's goofy, a little strange and plays off the natural ferocity that comes with the real-life animals. His scenes have a certain fun to them that's often lacking when it's just Tiana and Naveen. I also really liked the villainous Dr. Facilier (Keith David). When he's doing his magic, this is where I thought the film actually came to life. Although potentially scary for the younger set, Facilier's spells carry a defined style that's outside of other Disney animated features, something that's in short supply in this film.
I do have to admit, the use of traditional animation is nice to see in a mainstream setting once again. It seems that computer-generated 3D animation is the route of choice, however the vast majority lack the color and detail that old school techniques emphasize. It's sad that hand-drawn animation is now largely relegated to art house and off-mainstream status as demonstrated by the niche successes of Hayao Miyazaki's great works. I'm not saying that Disney should abandon one form over the other, but to look at the story at hand and choose the format based on the script's demands.
The Princess and the Frog is by no means garbage. It's cute and, at times, fun. But it borrows too much from other Disney films and doesn't provide the magic and imagination that makes many of its princess predecessors so great.
The Princess and the Frog Blu-ray Review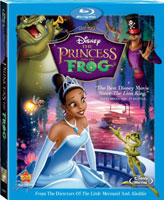 Disney can normally be counted on for producing lots of content for their major releases and The Princess and the Frog is no exception. The Blu-ray is a three-disc combo pack that also includes a DVD of the film with selected bonus features and a Digital Copy.
The movie is shown in a gorgeous 1080p high definition widescreen format (1.78:1 aspect ratio) with English 5.1 DTS-HD Master Audio. Additional audio tracks are in French and Spanish 5.1. All three languages make up the subtitles.
Co-writers/directors John Musker and Ron Clements are joined by producer Peter Del Vecho on a feature commentary track that focuses largely on sequence-specific production. Four deleted scenes are offered in storyboard format with an optional introduction from Musker and Clements. The pair return for commentary of two scenes that are shown alongside reference footage that was show to aid animators. Featurettes include "Magic in the Bayou: The Making of a Princess," which runs 22 minutes and is a traditional 'making-of' featurette with lots of crew interview clips. "The Return to Hand-Drawn Animation" (2:43) briefly explores the importance the film played in the future of traditional animation. Other featurettes explore the legacy of Disney films, separate looks at Tiana and Dr. Facilier, and animated musicals as a genre. Additional features include a music video for "Never Knew I Needed" by Ne-Yo, an art gallery and "What Do You See?" a set-top activity for children.
The Princess and the Frog Gallery
Trailer