I've always longed know how to fly. Planes and jets have never cut it. I wanted to be Superman, minus the tights and alien heritage. Enter, the Rocketeer, the dream job for a daydreamer like myself. No tights, human parents and a jet pack that sends you soaring. Joe Johnston's The Rocketeer is steeped in fantasy and nostalgia, targeting the dreamers like myself. While the film succeeds in being a fun romp, it does little to go beyond it. While The Rocketeer never crashes, it's a bumpy ride of cartoonish characters, a flimsy plot and an overall sense of letdown.
Cliff (Billy Campbell) is a down-on-his-luck pilot whose fortunes are turned by a convenient encounter with fate. After stumbling his way into a fancy prototype jet pack, Cliff transforms himself into the Rocketeer, a bumbling human superhero who finds himself in the middle of a dastardly involving gangsters, movie stars and general global wartime nastiness.
Director Joe Johnston steeps The Rocketeer in an old-time feel. The look, the language and the fast-moving turns make for a modern serial squished into one feature-length piece of escapist cinema. The construction of the intricate sets and period costumes are the highlight of the film, adding eye candy to a film that's surprisingly restrained in its special effects.
Actually, seeing LOST's John Locke (Terry O'Quinn) as Howard Hughes was a lot of fun too.
My biggest problem with The Rocketeer was its reliance on fluff and genre conventions. Although something of a modern mash-up of old-time serials, there's not much depth to any of it, even as a piece of disposable cinema. This came back to me after watching it for the first time since I saw it in the theater as a teenager. Despite seeing it and collecting the cards, not much stuck with me other than the iconic Rocketeer helmet and costume. It was one of those movies I know I'd seen but not much stuck with me. Even after a second viewing, I doubt I'll remember much six months from now.
Johnston and company crafted a film that's fun while it lasts, but it fails to launch itself into greatness. Flying people, rocket packs, zany action — these are all things I generally love. However The Rocketeer ultimately fails to bring them together.
The Rocketeer Blu-ray Review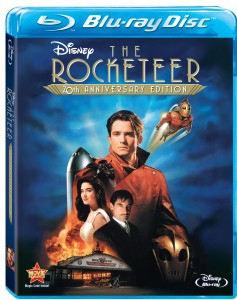 A very straight-forward release, Disney's 20th anniversary Blu-ray is something of a disappointment. While the film's 1080p high definition transfer is solid in most spots, it's the lack of extra features that makes it so boring. For a release marketing itself as an anniversary edition, one would expect something special, especially considering the respectful following the film has built over the years. Instead, the only bonus content is a full screen trailer. Audio is in 5.1 DTS-HD MA with option English and French subtitles.
The Rocketeer Gallery
Trailer