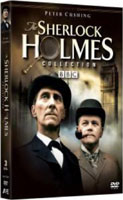 He's one of the literary world's best known detectives. He's also a pompous ass but he just happens to be good at what he does. Sherlock Holmes has been adapted in various mediums countless times including a 1960s BBC production starring Hammer Horror veteran Peter Cushing in the lead role. A&E's The Sherlock Holmes Collection collects the five surviving stories (covered over six episodes) that all share the same breezy attitude and distracting production values. But through it all comes Grand Moff Tarkin, er, Holmes and his delightfully cocky attitude and his honorable second fiddle, Watson (Nigel Stock).
Of the 16 episodes that aired, this three-disc set presents itself as including the only shows that survive. Productions included are The Hound of Baskervilles (two-part episode), The Sign of Four, The Blue Carbuncle, A Study in Scarlet and The Boscombe Valley Mystery. Overall, there's fun in each show, however there's also a lot left to be desired. Much of this comes from the age of the shows and the staged feel of them. Imagine what a somewhat elaborate stage production of Sherlock Holmes might look like and that's pretty much what these episodes are. There's not a lot of camera work – some edits but overall a lot of long, lingering shots. Directors of different episodes bring somewhat different styles, but overall it's quite static. And sometimes when it's not, you wish the camera would just stay still. For example, in The Hound of Baskervilles, the camera sometimes suddenly lifts up and moves to the side. The motion is jerk and distracts from the subtle action and dialogue.
By no means is the BBC's take on the Sir Arthur Conan Doyle legend slick or even easy to watch by today's fast-paced standards. Honestly, I didn't come into this viewing with a lot of extensive knowledge of Holmes other than what's presented in popular culture. I've got a massive collection of the stories sitting on my bookshelf but I have yet to pull them out. And I'm not certain I will anytime either.
I found watching these episodes that most of the stories are somewhat the same. A crime occurs, Holmes is called in, he taunts Watson for not thinking exactly as he does and things get wrapped up in the end. I grew up with similar plot lines, only it involved a dopey dog and a slacker named Shaggy. Still, this doesn't take away from the fun of watching Cushing and Stock bring Holmes and Watson to life.
Perhaps it's the childhood memories that were ingrained in my mind watching Cushing's cold Star Wars role in which he blows up a planet without so much as showing any emotion, that makes creeps me out about him. However, in Sherlock Holmes I was able to see some personality behind his perfect posture and distinct, emotionless face. Stock plays a likable sidekick who often misses out on the big reveal.
This somewhat brief collection of classic detective tales brings the legend to the screen – again – in a set that's somewhat entertaining but also jolting given the old fashioned feel of not so much the era portrayed but rather the slow feeling construction of the frames.
The Sherlock Holmes Collection DVD Review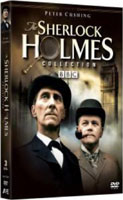 The Sherlock Holmes Collection contains six episodes of the BBC program spread over three discs. The full screen picture isn't the best, but fans are probably happy just to have it survive. Audio is in Dolby Digital 2.0 stereo. The only extra is the fictional biography "Sherlock Holmes: The Great Detective," which runs more than 45 minutes and contains interviews, historical background and film clips.