The establishment of the West has created its share of heroes and legends. Among the biggest are the myths of Wyatt Earp and Doc Holliday, friends and lawmen who were the centerpieces of the gunfight at the O.K. Corral. Driven by a focus on its characters and an outstanding performance by Val Kilmer, Tombstone is one of the finest Westerns to come along since the genre decided largely to pack up and ride into the sunset several decades ago.
After successfully siding with the law and bringing many bad guys to justice, Wyatt Earp (Kurt Russell) has plans of semi-retirement in the bustling town of Tombstone, Arizona – a hub for prospectors looking for riches in silver. But while Earp was able to stop some, crime and injustice continued in other parts and Tombstone wasn't immune. So while he tried to resist getting back in the law game, a band of outlaws known as the Cowboys lured him back. With Holliday (Kilmer) and his brothers Virgil (Sam Elliott) and Morgan (Bill Paxton) at his side, Earp continues the fight he left behind when he wandered into the sunset the first time.
Tombstone offers a rare mix of a character-driven story that is balanced out nicely by several spaced out action sequences. This creates a scenario that's great on both fronts. Firstly, you get well developed characters that are understood and have tremendous depth. The action scenes are intense, making for excellent pacing that gets neither boring nor too frenetic. It's rare that a film be so balanced in both areas. I find it much more common that one area dominates the other.
Even with a huge cast, one star stands out with a performance that is the sort you don't forget. Kilmer delivers a performance that I'd compare to Johnny Depp in Pirates of the Caribbean. He takes a well-known nearly mythical figure in Holliday and makes him both hilarious and dangerous. Kilmer brings a breezy edge to the character that oozes with confidence. I'd be shocked to hear that he didn't have a ton of fun playing sickly legend.
Above all, Tombstone is fun. It doesn't take itself too seriously but it doesn't undercut itself either. It's a strong mix that bodes well for a film that's placed in a genre that has all but died out.
Tombstone Blu-ray Review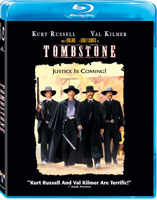 The Tombstone Blu-ray is a solid but not spectacular release. The film is showcased in widescreen 1080p high definition (2.35:1 aspect ratio) with English 5.1 DTS-HD Master Audio in English and dubbed 2.0 Dolby Digital tracks in French and Spanish. The same three languages are covered in the subtitles department as well. The bonus features include a making-of featurette, a collection of storyboards, trailers and TV spots.
Tombstone Gallery
Trailer