There's something both beautiful and boring about riding a train. On the one hand you can kick back and relax to the slowly passing scenery and the repetitive rumbling of the wheels rolling along the tracks. At the same time, you're trapped. There's nowhere to go except from cramped sleeping quarters to cramped eating quarters to even more cramped restrooms. Add to that the fact that more likely than not the train that you're squished on is pressing through in the middle of nowhere. Sounds like a formula for being trapped and isolated.
And so is the setting for Brad Anderson's tense but ultimately predictable crime thriller Transsiberian, which focuses on American couple Roy (Woody Harrelson) and Jessie (Emily Mortimer) as they explore the East by train before coming back stateside from a missions trip with Roy's church. Roy's a bit of a train geek, grinning like a young boy on Christmas morning whenever he comes across an old steamer or a point in the journey where the track style changes. Jessie, on the other hand, has a darker past. Little is said, nor does it matter. Simply put, she isn't the good girl next to Roy's virtuous exterior.
The confines of the train masquerade the tensions between the two as they appear to be in the early stages of drifting apart. These hints are amplified as the two meet Carlos (Eduardo Noriega) and Abby (Kate Mara), a pair of young travelers who seem very enthusiastic about their nomadic existence. As the two couples get to know one another, another story emerges – one filled with getting lost in foreign lands, voyeurism and international drug smuggling.
Transsiberian is a deeply engrossing film from the get go. It sucked me in with a simple, yet often overlooked, idea – interesting characters. Roy and Jessie make for a likeable couple, yet one with major flaws. On the surface, they're happy together. Yet, Roy holds Jessie's past over her. He preaches forgiveness, yet he has a hard time forgetting himself. Perhaps this is for good reason. Jessie herself doesn't open herself up enough to be fully trusted like one would expect from a committed spouse. The train, therefore, makes for the perfect setting to explore the great unsaid. And by thrusting Roy and Jessie into a conflict that is both moral and legal in scope, only then are the two able to come to grips with their true feelings.
Unfortunately, as the conflict gets closer and closer to the surface, so goes the film's unique factors. As the story draws out, Transsiberian becomes more and more predictable and even tedious. Hard surprises lead to easy outs and sequences that are borderline melodrama.
Transsiberian is an often beautiful film that sets forth on its journey with a lot left unsaid. In a lot of ways I wish it remained unsaid. But as the journey continues on through the East the destination becomes increasingly more convoluted in some respects and easy in others.
Transsiberian DVD Review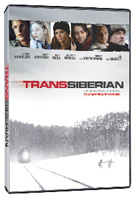 The snow-filled landscapes are gorgeous with the DVD's anamorphic widescreen (2.35:1 aspect ratio) presentation. Audio is in Dolby 5.1 Surround with optional English and Spanish subtitles. Unfortunately there isn't any added content as far as bonus features go, unless you still count previews.
Transsiberian Gallery
Trailer