Blake Edwards will always be remembered for being a master of slapstick comedy. He had an amazing eye and feel for physical comedy, teaming with Peter Sellers to create classics like the Pink Panther series and The Party. What I often overlook is the serious side his career also touched upon. Although filled with comedy, Breakfast at Tiffany's shows signs of this side. However, it wasn't until the diverse scale of Edwards really came through for me watching the 1971 Western Wild Rovers.
After spending more than 20 years as a shepherd on a farm, Ross Bodine (William Holden) is becoming increasingly reflective on life. He's become content in his rut, accepting it for what it is and not trying for anything more. The counter to this is Frank Post (Ryan O'Neal), a fresh farmhand eager to make things better for himself. He dreams of a wife, children and a home he can call his own. But those things cost money, something shepherds don't often save much of. The solution: robbing a bank and running away to the sun of Mexico.
They're not necessarily bad guys, but Ross and Frank find themselves hunted men racing for the border. Campfire nights give them the time and the backdrop to ponder life's inner workings. The result is a deep familial bond of trust and respect. It's this depth that makes Wild Rovers stand out for me.Edwards used his trademark comedy to draw me in, going for physical stunts and a little bit of lowbrow gags. But as the film progressed, it became a lot more thoughtful and introspective.
Holden and O'Neal have great chemistry together, bouncing off one another. Holden is particularly strong, filling in the role of the stoic old dog with great honor and strength. O'Neal is just the opposite, giving off a lot of raw energy.
Wild Rovers is bogged down by a long running time, clocking in at well over two hours. A couple of the subplots didn't come through clearly and I wonder whether or not they could have simply been cut out. The shadowy competitors add very little to the overall picture other than being hunters in pursuit of the two protagonist robbers. But that's also somewhat redundant as Ross and Frank have other pursuers. There's also a little too much rambling at times, making the pacing a little looser than it might have otherwise been.
Even still, Edwards proves that he was a more diverse filmmaker than perhaps he is given credit for. Sure, he can still whip out the laughs like few other directors could, but there's a lot more substance here as well showing a deeper mind at work.
DVD Review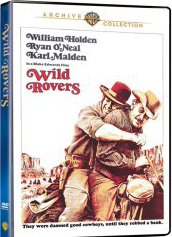 Wild Rovers has been released on DVD via the Warner Archive program. The picture quality has a fair amount of scratches and grime, but it's still certainly passable. This is common for films in the print-on-demand program to ensure that the films are at least available. The film is accompanied by a trailer.
Wild Rovers Image Gallery
Video Clips