In comic and film form, I can't say I'm a huge fan of the X-men. Granted I haven't read a lot of the comics, but the size and inter-changeability of the various mutant teams have always seemed daunting to me. In the movies, there's so many characters that few of them outside of Wolverine are given any time to define their purpose and their personality beyond a very basic level. But the animated series from the 90s got it right. Blending big storylines adapted from the pages of the comic with admirable character development, the animated X-Men cartoon sets the bar for others in the superhero genre.
Bringing together the fifth, and final, season of the Saturday morning cartoon, X-Men: Volume Five puts a closing chapter on one of my all-time favorite comic-based shows. It also includes a couple of episodes from previous seasons. This two-disc set offers 14 episodes that neatly round out the series, leaving the storyline open-ended enough to continue but also offering closure to this particular chapter. Villains in the set include Phalanx, more Magneto, Mister Sinister and Sabretooth. Red Skull also stops by for an episode co-starring non-mutant Captain America, who horribly voice cast given the lasting importance the character plays in the Marvel universe.
The X-men are a group of mutants with special powers that bind together to fight the world. Other mutants aren't so nice. They're often the ones causing the trouble the X-man need to fix. Stuck in between are the humans, who have the dilemma of almost being forced to be either pro-mutant or anti-mutant, much like we are today with issues like abortion. The team is led by Professor Xavier, a mutant with special telepathic powers that he's developed over the years.
As in previous DVD volumes and TV seasons, the focus is on developing storylines that build off one another. While the team has a core group of mutants, there's a revolving door left open for notable guests and multi-part story arcs. X-Men is similar to a tough soap opera, where relationships and the search for them take on as much prominence as the action. That's plentiful too, but I can't say that's why I followed the show even during its original airings.
When X-Men first aired, I made a special point of remembering it was on every Saturday morning. In fact, I was always upset when it was put off a week by some special or a rerun came on. The show always left me wanting more, wondering what happened next. It wasn't so much on the storyline of the week but rather how events tied into the bigger picture and throughout seasons and, even, beyond.
X-Men: Volume Five DVD Review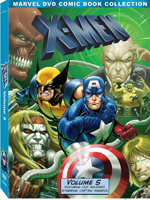 X-Men: Volume Five bookends the series with 14 episodes, mostly from the show's fifth season that ran from 1996 to 1997. Each episode is shown in its original full screen format with English 2.0 Dolby Stereo audio. Spanish and French audio tracks are also available. Like previous volumes, this set is a show-only one without any bonus features.
X-Men: Volume Five Gallery