Most of the cartoons I watched growing up revolved around heroes trying to stop villains with a single focus. In Transformers, the Decepticons pillaged the world in search of Energon. In G.I. Joe, Cobra wanted to take over the world. In He-Man, Skeletor wanted to stop the Conan wannabe and rule Eternia. Although each of these shows lasted several years, they really offered very little that was new or refreshing. Things changed for Transformers towards the end as the show's universe was opened up but it didn't last very long once that happened.
Each time I watch X-Men, I'm reminded why it's one of the best action cartoon series I've seen. With its tremendous scope and variety of heroes and villains it always offers something fresh. It also takes on a bigger scope than most every other cartoon I watched growing up where the consequences of one episode influence everything that follows. Collecting almost all of the show's third season and the entire fourth season, Volumes Three and Four of X-Men continue to demonstrate how well the Marvel super team were transferred from the comic page to the Saturday morning cartoon.
X-Men is set in a world of mutant powers. Humans are slowly evolving with random superpowers. The world is on edge as some bad sorts use their power for nefarious reasons and often choose to ignore the good work of the X-Men, a team of heroes brought together by their leader Charles Xaivier. Each episode revolves around the different bad guys and their varied reasons for frowning, growling and other forms of wanting to destroy the world. Like the first pair of DVD releases, these two contain several epic storylines that carry over into multiple episodes. My favourite is the time-travelling "Beyond Good and Evil" that runs four episodes and shows different takes on the X-Men and their world.
Like its comic book source material, X-Men is always building off of itself. The implications of one episode influence what comes after. Even when a show has a story that stands alone, the often build towards the bigger picture. Often it's the introduction of a new character but there's also small pieces of foreshadowing that come into play several episodes down the line. The format is like a comic book, really. I'm not totally familiar with the comic take on the X-Men, but from what I do know the show uses some of the franchise's biggest and most popular storylines such as Volume Three's five-part "The Dark Phoenix Saga."
What I appreciate most about X-Men is that it's able to balance the many characters the show has and give them ample development. This is the exact opposite of what I found with the live-action movies that were made after the cartoon wrapped. Sure, the show has more time and leeway to develop characters, but the importance on this was stressed early on and continued throughout the series' five-year run whereas the movies seemed more concerned with action and felt quite hollow. An epic struggle runs throughout X-Men over whether or not mutants are human. This cartoon proves that regardless the powers one may have, that being human is about desire and emotion more than it is any trick one can do with their hands or mind.
X-Men: Volumes Three and Four DVD Review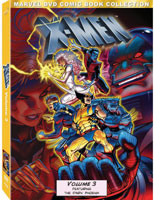 The second wave of X-Men DVDs contain the same mix of offering fans the show itself and not much else. Volume Three contains 15 episodes while Volume Four has 14. All shows are shown in their original full screen format. Unfortunately, the picture hasn't been cleaned up and often shows significant amounts of dirt and artifacts. Audio is in Dolby 2.0 stereo. Neither volume has any bonus features outside of promotional previews. Perhaps now that Disney has brought Marvel into its fold, a more elaborate release will come along somewhere down the line.
X-Men: Volumes Three and Four Gallery