How can you tell when someone's a great performer? They take an otherwise pointless and boring script and make it watchable and even enjoyable. So goes funny man Jim Carrey in Peyton Reed's Yes Man, a film that has little plot until the last act, yet Carrey rises above it to bring it to an acceptable level.
He plays Carl Allen, a loan officer who has a habit of declining everything and everyone who approaches him. The man's got no life and it's something he's content with as he mourns a hard break up. But after being coaxed to go and see a hypnotist show, Carl gets picked out of the audience and is put under a spell to embrace the power of "yes," taking him from one extreme to the other. Now he's up for anything and discovers that while the world is more a more dangerous undertaking this way, it's also a whole lot more fun.
The first part of the film is largely Carrey coming up with clever ways to decline his every option. It's really just a stretched out version of the set up shown in the film's trailer and doesn't accomplish much more outside of showing Carl's circle of friends and co-workers. On the flip side, once Carl become more agreeable, the film becomes a palette on which Carrey can bring out his manic side, pulling off quick strings of gags, stunts and other odd situations. Things get even a little crazier when Carl finds a love interest in the form of hipster singer and photography instructor Allison (Zooey Deschanel).
Yes Man is little more than a gimmick movie. It has very little to offer in the form of a story as the main issue of Carl's inability to say yes to anything is solved at the end of the first act. Other problems pop up but there's very little plot again until the final few scenes where all of the yes-ing comes to a head. Luckily, with Carrey on board the gimmick works and in some ways the loose plot gives the film a lot of freedom. It allows Carrey to do pretty much anything from bungee jumping, to stunt motorcycle riding, to extreme sports, to trying new languages. Of course, most of these are recycled back into the story in a most contrived and convenient manner.
So while it's at times cute and gives Jim Carrey the chance to be the Jim Carrey that I know I crave to see, Yes Man is one of those films that has little reason to be seen in the first place. But should you find yourself in the position of popping it in, there's little harm in seeing it either. Just don't expect to be blown away with its mediocrity.
Yes Man DVD Review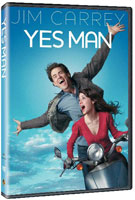 Warner offers two versions of the Yes Man DVD. There's a single-disc version and a two-disc special edition that comes with a Digital Copy of the film. I found the video to be solid at best as there were times, particularly in outdoor scenes, where the picture seemed soft and slightly pixilated. Nothing too bad but still noticeable. The film is presented in widescreen with Dolby Surround 5.1 audio and subtitles in English, Spanish and French.
Not surprisingly, Jim Carrey is the focus of the meat of the special features. "Downtime on the Set" is a short featurette that goes behind-the-scenes of filming with all sorts of back scratches and high fives in the comedians direction courtesy of other cast and crew. "Jim Carrey: Extreme Yes Man" looks at how Carrey performed many of the film's stunts himself, including the bungee jump. Carrey also plays extensively in the gag reel. Additional extras include "Future Sounds: Munchausen by Proxy" about the movie's band fronted by Zooey Deschanel's character, as well as five music videos from the group.
Yes Man Gallery
Trailer