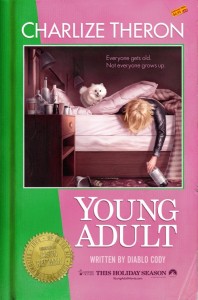 In school, I was a ghost. I was nonexistent. It put me in a perfect position to sit back and watch. I remember thinking the cool kids had it made. They had lots of friends, the latest clothes, perfect hair and all of their Saturday nights for the next month all planned out. Me, I just sat back dreaming, hoping someone would invite me out for next Saturday. My damn cowlick made the perfect hair about as realistic as getting a second glance from the dream girl who walked down the hall in slow motion with a magical wind blowing her hair.
It turns out those kids had the same messed up problems as I did. They just had some hairspray and a key to their parent's liquor cabinet to hide behind. Most of the so-called cool kids were pretending to be something they weren't much like I was hiding from myself. Funny thing is, it's a universal experience that many of us can relate to. Thankfully, I came to my senses at some point. So did other ghosts. Most of the cool kids too. But some were left behind, holding out for that magical Saturday night, the endless party, the dream girl with the slow-motion fluttering hair.
That's what makes Jason Reitman's Young Adult so appealing. Filled with pain disguised as comedy, it presents a real-life Peter Pan complex where letting go of one's youth is complicated and painful.
Mavis Gray (Charlize Theron) is stuck in her youth. Literally. Unable to settle, she works as a ghost writer for a once-popular series of books aimed at teens. Once the pretty girl that everyone admired, everyone else has moved into the real world while Mavis is stuck in a dream world. Only, it's more like a nightmare. With the end of the series pending and her life going nowhere, Mavis heads back to her hometown. The excuse is to write, but the real reason is to convince her ex-boyfriend (Patrick Wilson) that they've still got something. Only thing is that the ex is now happily married and has a picturesque life, complete with a newborn baby.
It's awkward as Mavis is essentially the same person as she was when she left her small town for the big city to become a writer. But while everyone looked up to Mavis for "making it," they moved on and the one-time it girl was left behind.
With Young Adult, Reitman tackles what happens to teenaged confusion when it isn't resolved. It's ugly the first time, but when it's not taken care of, it manifests into something monstrous. While it's easy to hate Mavis, much like most everyone else does, the story has so many layers to it that emerge over time. It's like in school where everyone's wearing a mask. Everyone had something to hide. We just all did it differently. Reitman invites the audience to be Mavis' friend. Once you spend some time with her, she lets you in on why she is the way she is. Behind that angelic face, she's got some baggage.
Written by Diablo Cody (Juno), much of the film's strength is its ability to make laughs out of life when it's most complex. Cody does a fantastic job at finding the big truths in life. The script has little action. Instead, it's long spans of dialogue and small moments.
Theron is perfectly cast as the one-time pretty girl who never matured enough to understand the world outside. Instead, she wrote and created her own. Theron's performance is raw and it evokes both a hatred and an endearing pity towards the character.
Young Adult is one of the best written and best performed films I've seen in some time. It mixes cynicism with deep-rooted pain. Ultimately, it's easy to relate to, even for us ghosts who seemingly disappeared into the halls.
Young Adult Gallery
Young Adult Trailer