Jerry Seinfeld might be back but he loses a bit of his sting with Bee Movie. A colourful piece of computer animation, it's sweet like honey in parts but never fully pulls it together to make it stand out in an increasingly crowded CG crowd. Enough with the bad puns already. It's just that they're hard to shake after watching this.
Seinfeld is the voice of Barry B. Benson, a bee who's ready to enter the workforce as an average member of bee society. After Barry breaks the bee code and speaks with a human, the world is thrown into a loop. With help and encouragement from his human friend Vanessa Bloome (Renée Zellweger), Barry takes the honey business to court to end bee exploitation. I found it interesting how the general public within the film's world was willing to accept, yet us in the real world have a hard time doing much of anything to stop the exploitation of humans. But I won't digress into that as this is a film review.
The bee world inside the hive is very clever and colourful. Everything is busy, working together like a machine to ensure things run smoothly. Each bee is merely a part of the machine but because it's the only thing they know, they accept it. The hive exploits were a mix of classic slapstick and some Dr. Seuss-inspired contraptions. The resulting atmosphere is inviting and wonder to watch.
Like Seinfeld, much of the humour comes from the random rambling of Barry, who other than his small size, wings and stripes, comes across as strikingly human. He needs to lose weight, likes to eat cake and has a future to ponder. And while the individual conversations work on their own, there's time when it feels like filler. Seinfeld ran on a similar approach of chit chat, but it was a 30-minute sitcom. I'm sure stretched out to a film, it would have become just as tiresome.
As is the case with many Dreamworks Animation productions, there's a lot of familiar voices along for the ride. Often they're a distraction but here the voice casting is excellent. Seinfeld's signature delivery fits Barry's personality very nicely and the supporting cast is also appropriate in most cases. Zellweger felt a little too generic for my liking as Vanessa but her part was also very generically written. Perhaps the best voice of all is a hilarious gag involving Ray Liotta. Sure, he's playing himself but it's still comedic gold.
Bee Movie is a solid mix of comforting gags, clever language and a meandering plot that doesn't seem to have enough gas to stretch out into a full feature. It's ultimately cute but you can't help but wonder how great it might have been with a little more story.
Bee Movie DVD Review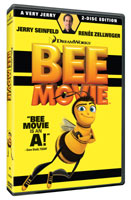 The two-disc "Very Jerry" edition may sound like an ice cream flavour du jour, but it's an excellent DVD. The film comes in a gorgeous enhanced widescreen format. The colours are vibrant – just as you'd want from this colourful film. Audio options are numerous with Dolby 5.1 Surround in English and French, with additional English and Spanish tracks in Dolby 2.0 Stereo. There's also subtitles in English, Spanish and French.
The commentary track is loaded with personalities. On board are Jerry Seinfeld, directors Steve Hickner and Simon J. Smith, writer Barry Marder, producer Christina Steinberg and editor Nick Fletcher. There's times where the talk is crowded and it's hard to tell who's talking, but with so many people it's fresh to hear all the different perspectives. It's also nice to find the commentary included in the subtitle options.
There's three deleted scenes told by animated storyboards with brief intros from Seinfeld. Combined, the three scenes run five minutes. There's also six alternate endings told in the same fashion.
The early live-action trailers are included. When they debuted months in advance to begin the hype machine I was more than just a little intrigued. Sixteen "TV Juniors" further add to the unique marketing campaign of the film. These are staged vignettes that go behind the scenes.
On the second disc, there's a variety of entertaining and educational feautrettes and extras. "The Buzz About Bees" is a concise look at bees as told by clips of the film. "The Ow! Meter" is an interactive look at what hurts humans bee sting wise and what hurts bees. There's also some tips on how to avoid getting stung. "That's Un-Bee-Lievable" is a trivia game with more bee factoids. Another interactive feature is "Be a Bee" in which you answer a series of personality questions to help determine a possibly ideal career match. "Pollination Practice" is a basic set-top game that quickly wears thin.
There's two additional featurettes including "Tech of Bee Movie", which gives a solid look into the making of the film and "Meet Barry B. Benson", which is really just a series of questions answered in a round-about way with short film clips.
DVD-ROM includes colouring pages, honey recipes, a Sudoku game and a Bee Movie video game demo. Also included with this DVD are a music video, a selection of musical scenes from other Dreamworks Animation films and reviews for Kung-Fu Panda, Madagascar: The Crate Escape, The Spiderwick Chronicles.
Bee Movie Gallery
Trailer