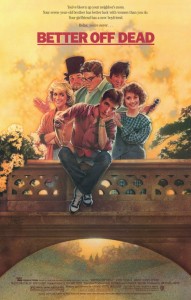 The teen comedy was just establishing itself in the early to mid 80's, yet it was already spoofing itself – or at least that's how it seems watching "Savage" Steve Holland's Better Off Dead nearly two decades after the fact.
A young John Cusack aptly stars as Lane Myer, an outsider who's not quite the best skier in his school so he's dumped by his prissy girlfriend (Amanda Wyss), Beth. Between the girl trouble, car trouble and family trouble, Lane assumes his life is over so he proceeds to ponder his death and an apt suicide. Life is tough in middle class suburbia. A cute exchange student moves in across the street, nerds hound Lane's existence, he starts working at the lock fast-food joint – complete with distinctive uniform – and he finds himself at the wrath of his bizzaro parents.
Writer/director Steve Holland plays with so many cliches in Better Off Dead you'd think that he's well aware of the fact. But he takes several of them that all-important step further to give the film a familiar but different feel. First off, there's the instigating event that puts the film in motion: Lane being dumped. Not only is he left for a more accomplished, better looking and better off guy (Aaron Dozier), he's a stereotypical rich kid to boot, complete with arrogant voice, hot convertible and preppy sweater. All that's missing is the name of Chad and a roman numeral following his monicker (his name is Charles De Mar). The entire plot has a feeling of deja vu to it, combining elements of teen comedy, underdog romance and even the sports movie.
Even with its feeling of oddball familiarity, Better Off Dead's charm stems from its imagination and attitude. Whether it's an ultra-obsessive paper boy who will stop at nothing to collect a whopping $2.00 or a Van Halen-rocking hamburger that comes to life, there's lots of scenes that are just plain out there with little reason other than humour. In fact, I'd say Holland doesn't quite go far enough. Lane's imagination comes to life only twice. Although they're highlights of the film, there's not enough of them. Near the beginning Lane is mulling over his break-up in the cafeteria by doing a little drawing. The pictures come to life and Lane ends up embarrassing himself in public yet again. But that's all for the drawn animated imagination. Same goes for the claymation hamburger. Blink and you'll miss him. Lane clearly has an active imagination that transfers well to the screen. Why not use it a little more? Lane's little brother, Badger, also has an active imagination, but he's more constructive with it. He build lasers, woo older women
While I can excuse intentional stereotyping of character types if done with a self-referential nod, there's no excuse for racial stereotyping. I thought the pair of sports announcing Chinese dragsters were funny at first but then Holland proceeded to further define their characters with Chinese food containers and chopsticks. Thankfully, there's no slanty-eye jokes but the racial implications are there, at least on this front. But on the other hand, Holland uses Monique's nationality as a springboard to her nationality. The Smiths, her overbearing host family, treat her as though she's some uni-lingual dimwit. But when she and Lane develop a relationship, Monique's true personality comes out. She can in fact speak English, although somewhat broken, and she's actually very smart. Of course, you know this the second she's introduced because she fits the 'teen comedy foreign exchange student' mold with perfection.
While the teen comedy has continued to develop over the past couple of decades, Steve Holland shows that he had a handle on the genre's rules long before American Pie and its many imitators came along.
Better Off Dead Trailer