Braveheart is one of those movies that I can watch at any time and love it knowing full well it's not perfect. Still, it drums up a primal sense that gets my blood flowing and my emotions riled. I also picture myself writhing on a table being tortured whenever I hear the word "freedom" now but that's another story best left to the psychiatrist I'm not seeing.
With a sweeping look, lots of emotion, a classic hero, occasionally corny dialogue and forced romances, Braveheart is a flawed classic.
The film tells the legend of William Wallace (Mel Gibson), a Scotsman whose family was killed under English tyranny. As he grows from a wee lad into a strapping man, Wallace's haunted past sets in motion a series of events that lead to full blown war as the citizens of Scotland try to rid themselves of English rule.
There is little doubt about who the heroes are and who the villains are. The heroes (the Scottish peasants and farmers) are overall kind, the fight for their families and for freedom and they know how to have a good time. The villains are all rich, stuffy and cannot be trusted. And if that weren't enough, they get first night privileges with the new Scottish brides. This is important in the creation of William Wallace as a tragic hero. Everything must be clear as far as right and wrong goes. If he were fatally flawed, he couldn't be the legend and the leader he becomes. Like old-time pro-wrestling, it also makes it easy to cheer for the good guys and hiss (literally) at the bad guys.
I think a big part of why I feel so strongly about Braveheart is because it drums up so much emotion. While I don't want to meet a martyr's fate, the character of William Wallace is a character I'd like to be. He has a vision of what his people should expect, he knows how to lead, he is passionate. With each of these traits comes temptation and challenges that he rises to each and every time. The result is that I want to be a William Wallace minus, maybe, the face paint.
But for William Wallace to look strong, unfortunately, in Braveheart most everyone else is made to look silly – particularly those not on his side. Longshanks (Patrick McGoohan), the evil king of England, is particularly surrounded by idiots. His son is treated as a buffoon simply because he is a sissy and he's gay. Apparently this was an era where only manly men could do anything of any importance. There's also guards and henchmen a plenty who are little more than cartoon characters in spiffy period costumes.
Wallace's passions are driven by love: for family, for his wife and for his country. All are pulled into turmoil. Things get so grim for him that one might even compare Wallace to the Biblical character of Job who literally loses everything he has. However, over the course of the film Wallace develops a relationship with Princess Isabelle that is convenient to put it politely. She exists largely as a plot device rather than to enhance the overall film. Perhaps some of my disregard for her is because Murron, his true love, is so much more important in Wallace's motivation. If Murron is true love, Isabelle is nothing more than an out-of-town floozy.
But for every cartoon character there's a sweeping hillside vista, an inspiring speech or a vicious battle scene to redeem it. Gibson's William Wallace is one of the truly great characters of modern cinema. As a result, even with its many glaring flaws, Braveheart still stands out as a film worthy of being dubbed as unforgettable.
Braveheart DVD Review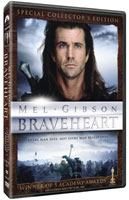 It's about time. Braveheart finally gets some sort of special edition that actually lives up to its billing. The two-disc special collector's edition combines an excellent feature presentation with a solid mix of extras.
The battlefields and the fields of Scotland come alive with the vivid widescreen picture and 5.1 Surround Sound. Both are excellent and show the film in the best possible light. There's also a 5.1 French track and a Spanish 2.0 stereo track, as well as English, French and Spanish subtitles.
Star and director Mel Gibson comes along for a commentary track that is unfortunately very uninformative and boring. Somewhat better is the 22-minute featurette "A Writer's Journey" in which scribe Randall Wallace talks openly about how he discovered the myth of William Wallace and how he came to pen the script. "Alba gu Brath!" nicely documents the making of the film. Divided into three parts, the running time is 50 minutes and breaks the behind-the-scenes goings-ons with great detail. My favourite feature is the featurette "Tales of William Wallace." The 30-minute program explores than man and the myth of Wallace. It compares him to other folklore tales and weaves in and out of where the truth lies and the myth emerges. Also included on the disc are several archival interviews, a photo montage and a pair of theatrical trailers, memorable for the shot of the flying sword.
Braveheart Gallery
Trailer