Few films reach genuinely iconic status. Over the history of films, there's probably thousands of great films, many of which people can quote, act out and dream of. But to be truly iconic, there needs to be something more. It has to be both lasting and impactful, somehow seeping into the collective unconscious. Iconic films are ones that are borrowed from, framed around and outright ripped off. When it comes to cinematic fashion and romance, perhaps none are more iconic than Blake Edwards' Breakfast at Tiffany's.
Based on the story by Truman Capote and adapted for screen by George Axelrod, Breakfast at Tiffany's tells the tale of two urban dwellers approaching the middle parts of their lives without much direction or even hope. Audrey Hepburn plays Holly Golighty, a country girl who has run away to the city and becomes an escort. She parties all night, getting home in the wee hours of the morning dreaming of the jewels and status that comes with Tiffany's, the upscale shop she passes daily. A far departure from Hannibal from TV's The A-Team, George Peppard is Paul Varjak, a struggling writer chasing his dream with the help of a sugar mamma. Holly and Paul hit things off the moment they meet. More than just romance, they push one another to be something more, to reach their potential. It's a lovely relationship that really embodies what love should be about.
With her elegant stride and chameleon properties no matter the scene, Audrey Hepburn shines in the lead role, creating a character that is equally beautiful and fashionable today as she was when the film was released nearly 50 years ago. In fact, her large, round sunglasses in the film are strikingly similar to the trendy ones in the fashion pages today. Her sleek black dress is equally unforgettable and could put any of today's actresses on the "Best Dressed" lists for whichever the awards ceremony du jour is.
Like William Wyler's Roman Holiday, which also starred Hepburn, there's a sense of old-fashioned romance in Breakfast at Tiffany's where the relationship heats up at a slow simmer. It keeps things somewhat unpredictable and much more tender. Through their courtship you get to know Holly and Paul intimately before they know each other intimately. It's sweet, yet still adult. It's rare that on-screen romances are treated the same today, which is a shame because it creates an atmosphere where you want to see the couple together at the end of the film, but sometimes things don't work out exactly as you hope they do, even when the ending is a happy one. Sacrifices are made and the result isn't the sappy fluff I see in far too many modern films.
Breakfast at Tiffany's is a movie that truly is about chasing dreams but it also doesn't make them come easy. Making dreams reality in real life either takes a lottery windfall or, much more likely, a lot of risks and hard work. These ideals are embodied with style and grace here in a film that's not so much idealistic as it is realistic and iconic.
Breakfast at Tiffany's DVD Review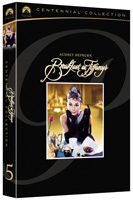 Paramount's two-disc Centennial Collection release of Breakfast at Tiffany's gives the film the refined attention it deserves. The movie is shown in a beautiful enhanced widescreen format with sharp colors and terrific detail considering its age. Audio is in Dolby 5.1 Surround alongside a restored mono, Spanish mono and French mono tracks.
Producer Richard Shepherd provides a rather sparse but honest commentary track. The remaining special features are found on the release's second disc. "A Golightly Gathering" reunites several of the actors and actresses from the classic cocktail party scene and provides 20 minutes of reminiscing and nostalgia, all filmed over drinks. "Henry Mancini: More Than Music" is a 20-minute tribute to the master composer. "Mr. Yunioshi: An Asian Perspective" gives an honest and balanced exploration of the politically incorrect Asian portrayal of Holly's upstairs neighbor played by Mickey Rooney. "The Making of a Classic" looks at the inner mechanics of how the movie came together. Not specific to just Breakfast at Tiffany's but rather her larger body of work, "It's So Audrey: A Style Icon" takes on the impact the actress had on the world of fashion and appearance. Additional featurettes include historical looks at the Paramount lots and the Tiffany's department store, a reading of a letter Hepburn wrote for the inclusion in a book celebrating Tiffany's 150th anniversary, a theatrical trailer and a photo gallery.
Breakfast at Tiffany's Gallery
Trailer