Robert Altman was a master of the ensemble film, bringing together large casts to weave complex narratives that actually meant something. Exactly what that is in Brewster McCloud, I'm not sure. But is that a matter of me missing something or rather the film losing its relevance over the course of the last 40 years? Regardless, there is something delightful in the absurdity and chaos of the movie that kept my interest even as I struggled to pinpoint exactly what it was that I was watching.
Bud Cort stars as the reclusive titular character who spends his time working madly on a pair of mechanical wings in the dank recesses of Houston's Astrodome, then an architectural milestone that offered a way to guarantee no baseball games would be called due to rain and little else. He's watched over by a guardian angel named Louise, who also appears to be behind a string a deaths connected by bird poop. Have I mentioned Brewster McCloud is absurd? Other characters include Shelley Duvall's debut as a temptress tour guide with some of the biggest eyelashes ever created and Det. Lt. Frank Shaft (Michael Murphy), a turtleneck-wearing Steve McQueen parody on the case to solve the apparent murders. If all this weren't enough, the entire film is framed by the narration of a science teacher (Rene Auberjonois) getting all academic about birds.
Breaking Brewster McCloud down, it's a modern retelling of the Icarus myth. You've got your young man working hard to build his wings, all the while receiving warnings to be careful – in this case, Louise heeding Brewster to avoid sexual relationships.
And then there's the academic narration drawing comparisons between the characteristics of the folks who inhabit the film and different fowl. The Astrodome is a birdcage, which, is therefore a trap. Brewster's workshop is his place of comfort, his nest. With the wings, there's the need to get out and escape. And this is where I question the lasting relevance of the film. While escape from the mundane is a timeless theme, I'm leaning more toward Altman condemning the artificiality and coldness that modern architecture and technology were bringing forward four decades ago. The Astrodome appears as a horrible place, just like other dome stadiums. But they're all disappearing now and being replaced by open-air structures with more personality and retractable roofs. Today, technology is helping us maintain the natural, all the while saving games from rain delays. But was Altman really just knocking baseball and football stadiums? I seriously doubt it.
Weird, irrelevant, confusing – these are all feelings I had running through me watching Brewster McCloud. Even still, it left me wanting more. At least after a coffee and some raisin toast. The film left me enough bread crumbs to make me want to go back and further decipher it and enjoy the absurdity of it all. That's what being challenged is all about. Altman left little doubt that he was a confident director who told the stories he wanted to in the way he wanted. Brewster McCloud is certainly an example of this.
Brewster McCloud DVD Review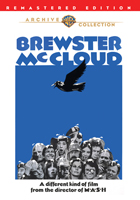 For a director as prolific as Robert Altman, it's amazing to think that Brewster McCloud is only now making its debut on DVD. And even then, it's on Warner's on-demand Warner Archive label. Although not perfect, the remastered widescreen print is solid with bright colors and only limited scuffs. There are no bonus features other than the film's theatrical trailer.
Trailer