Intricate costumes, gorgeous sets, period sensibilities, high-brow scandal and an overly long running time converge in Julian Jarrold's adaptation of Evelyn Waugh's novel Brideshead Revisited. Occasionally interesting, always beautiful and regularly tedious, the film attempts to capture a time and a feeling yet it ultimately fails to provide the depth needed to make it wholly successful.
Charles Ryder (Matthew Goode) and Sebastien Flyte (Ben Whishaw) are school friends. Although not exactly poor, Charles does not come from the same wealthy mold as his pal. He's a middle class gent whose stock in the world is growing as his success with painting begins to take off. When Charles invited to come and meet Sebastien's family at Brideshead, their country estate, the relationship continues to morph.
Openly hinting at a deeper connection than just being friends, Charles becomes openly interested in Sebastien's sister Julia (Hayley Atwell) also. Or rather is it class ascension? Whichever the case, it's a matter of desires as relationships cross and intersect with one another, particularly between the youthful trio.
Despite all of its various storylines, Brideshead Revisited was largely a bore to me. None of the various romances caught my attention fully, even though they're not exactly your typical boy-meets-girl kind of flings. There's overt allusions to homosexuality and hints at incest yet they're treated like any other fling. Maybe that's the point. Maybe I found the film a little boring because the taboo trysts didn't shock me. But I doubt it. I think I was bored more because none of it was made interesting. All of the major characters and their motivations came off as shallow to me and under explored. I've seen the bourgeois kids before. I want something unique. I felt reminded of The Dreamers, which was more interesting not so much because of the love triangle and raunchy scenes but rather the strong backdrop in which it was set. Brideshead Revisited relies on the beauty of the estate but really doesn't do a lot with it.
The paintings, enormous ceilings and intricate doorways are all symbols of status. Nothing more, nothing less. Although beautiful, I didn't see it as much more than background scenery and the driving force behind a theme of class ascension that has be told and retold many times over.
I haven't read the novel in which the film is based, nor have I seen the mini-series from some number of years ago. Perhaps there's more to the story than is shown here. But this intricately set period drama did little for me outside of the obvious architectural eye candy.
Brideshead Revisited DVD Review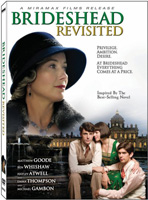 The DVD release of Brideshead Revisited presents the film in all of it lush glory. The film is showcased with a flawless widescreen picture (2.40:1 aspect ratio) with a Dolby Digital 5.1 Surround Sound audio track. Subtitles are available in English and Spanish.
The audio commentary features director Julian Jarrold, co-writer Jeremy Brock and co-producer Kevin Loader and combines filming stories with some interpretation of both the film and the job of adapting it from the novel. "The World of Brideshead" is a pretty standard making-of featurette that runs about 20 minutes. There's also seven deleted scenes with optional filmmaker commentary.
Brideshead Revisited Gallery
Trailer