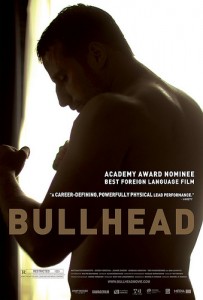 Settling in to Michael R. Roskam's Bullhead, it had all the makings of another gritty film about organized crime on the international scene. But then the unexpected happened. And Bullhead became something much more poetic, deeper and depressing. At least part of the time. The film ultimately has two fronts: the organized crime aspect and the psychological drama. The latter is interesting while the former takes away too much of the film's focus.
Bullhead centers on Jacky Vanmarsenille. At first, he seems like your typical thug. He comes across as more meat that brain, a tough guy who is being strung along by his older family members. They're cattle farmers, which turns out to be a cutthroat industry. Shady deals with hormone manufacturers lead to murder, which leads to an attempted coverup. It's in this area that the film struggles to find is way. Excessive characters, few of whom go beyond stock figures, clutter the screen. These plot points are largely standard stuff, inspired by every other gangster movie that has guys sitting around a table, talking shop and cracking jokes at one another.
However, lurking underneath all this is Jacky. Following a traumatic childhood event, he's quite literally searching for his place in the world. He's a thug in search of his masculinity. Over the years, he has transformed himself into an animal, plugging himself full of hormones and who knows what else.
Jacky's struggles to come to grips with his situation are what make Bullhead stand out. It's heartbreaking and unsettling, largely because it's fresh. Roskam is direct without going over the top, which would have been easy given Jacky's situation. Instead, the director remains sympathetic to the anti-hero. With few knowing Jacky's secret, he's left to deal with it on his own. The film's depressing look further emphasizes Jacky's suppressed madness.
Like everything else in life, Jacky has learned to cope. From the moment the incident happened, he saw firsthand how things can be swept aside. In his world, it's important to maintain the status quo. Otherwise people will start sniffing in your business and that's a threat.
Throughout the film, Jacky is shown pumping himself full of steroids. As dealers explain, he's taking doses meant for cattle. His body has built such tolerance for the drugs that he has to take such massive amounts to maintain his beefy upper-body. Jacky is slowly killing himself in an attempt to find his masculinity.
Roskam introduces more than enough conflict in Jacky's story that the whole murder coverup that much of the story revolves around is unnecessary. Between Jacky's fight for manhood, reconciliation for the past and the possibility of revenge, there is lots that's interesting. It's also presented in such a way that's discomforting but not disturbing. Yet, there's this sideshow populated by stock characters and standard situations. They're who the plot revolves around when, really, the story is about the one man. At least that's how it should have been.
Even still, Bullhead is a very strong film. Roskam shows the most confidence when things are unsettling and different from the genre underworld in which the plot resides. This is where the movie stands out. It's just unfortunate there wasn't a little more of this (or less of the filler).
Bullhead Blu-ray Review
Blu-ray review coming soon.
Bullhead Gallery
Trailer