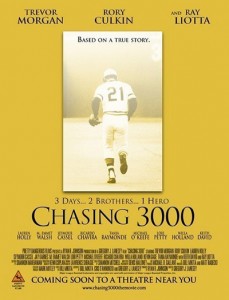 Roberto Clemente is an athlete worthy of hero status. A story of triumph and tragedy, you don't hear people even whisper bad things about him. The same can't be said for Gregory J. Lanesey's Chasing 3000. It's a nostalgia-fueled bore that uses baseball history as a backdrop for a formulaic road trip movie.
After relocating to California against his will, teenagers Mickey (Trevor Morgan) and his brother Roger (Rory Culkin) "borrow" their mom's car and head east to their hometown Pittsburgh. Their goal: to witness Clemente's historic 3,000th hit. Complicating matters is that Roger has muscular dystrophy and often requires a wheelchair. He's also got a worsening case of bronchitis that needs medications.
Framed loosely as a flashback told by adult Mickey (Ray Liotta) to his kids, early in the film, Mickey's daughter pipes in, "Oh, no! Not another story about the 70s." It is. And while you get the twinkle of fond memories from the person telling the story, it's often painful for those having to listen to it.
As one might expect from a road trip movie, much of the plot centers around the brothers talking in the car and meeting folks. Chasing 3000 has a solid enough premise but it goes nowhere with it. The big struggle is in the boring characters who have nothing interesting about them beyond what shows on the surface. Mickey is an angry teenager struggling to come to grips with the fact that his father walked out on him, his brother and mom. Roger is the wheelchair-bound voice of reason. He is defined largely by his disability rather than using it as a springboard into something more interesting. It's almost as though Roger's struggles are played for sympathy. This rings especially true with the misleading ominous tone that runs throughout the film.
New characters come and go, much like other road movies, but they don't add much. I kept waiting for the story to break out of the mold and live up to its billing as not being just another story about the 70s. Oddly, that vibe is largely absent too other than the clothes, cars and baseball cards.
For a movie about chasing dreams, heroes and the open road, Chasing 3000 has a lot of needless moping. It's really just one stop to the next for the two leads. I couldn't wait for the final stop.
Chasing 3000 Trailer
Chasing 3000 Gallery