In the 15 years since its release, Kevin Smith's Clerks has become the thing that Hollywood legends are made of. In fact, months after it came out, the legend was born. Employing an ultra-low budget, Smith was able to make the impossible possible by making Clerks an indie darling that crossed over into the mainstream. Although I suspect a large part of the legend has been emphasized by clever marketing, there's no denying the raw and energetic feel Smith created with a memorable script, great characters and a genuine sense of Gen X angst. Clerks is the type of film that speaks to a generation and continues to reverberate a decade and a half later.
Dante (Brian O'Halloran) is a slacker. His friends are slackers. For all intents and purposes, his life is going nowhere fast. But as much as he complains about it, he seems to enjoy the company that he keeps. Clerks focuses on one day in which he's called into work on a scheduled day off. Upon dragging his butt out of bed, Dante proceeds to sell smokes, paper towel, snacks and more smokes to his largely ungrateful clientele. Between his customers and his friends popping in for a visit, Dante is able to ponder life, love and Star Wars.
With Clerks, Smith was able to tap into a collective feeling. With its honest talk that is blunt but intelligent, he touches on all sorts of issues, some important in finding one's way and others just part of pop culture cool. I can't say that everyone can connect with Clerks, but I know I can. It came out at a time where I was working a similarly unrewarding job with similar folks and similar clients. It was a low point in life, but there was also a core group of friends there that made it memorable. So when it came time to move on, it's pretty easy to look down upon and praise such jobs all at the same time.
One of Smith's greatest strengths has always been his ability to relate with audiences through characters that are simply embellishments of everyday people. Through direct dialogue and an ear for pop culture language, Smith creates characters that are easy to relate to. And when that happens it's easy to be drawn into the film. Because you know someone who's a little like Dante, maybe even yourself, you care for him and what he has to say.
Despite his many pessimistic views on the world and his crappy job that forces him to alter his hockey plans, Dante does seem happy. And if he's not happy, he's confident in himself and how he'll end up. At several points during Clerks he's complaining about how he wasn't even supposed to be in at the store that day but at the same time he makes the best of it. The store becomes a central meeting place. No shortage of friends pop in, even if only briefly. This company also enables Dante to discuss life and his personal dilemmas. Although he's in his early 20's and not headed for a career anytime soon, Dante shows that he is somewhat content with his direction. This is where the film speaks to me. I am into a career now and have found that direction that Dante's missing but there was a time where I was thinking these same things. It seemed odd to have to be validated at a time of not even trying to get ahead in the material world, but Clerks provides that validation. Working at a crappy job can have benefits. It's certainly not about the money. It's about the perspective it can bring by the people, the bizarre happenings and the collective experiences that get reminisced about years down the road. Clerks speaks to a generation of searchers and lets them know it's all right to be going nowhere.
Clerks Blu-ray Review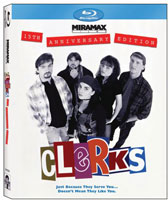 Given the low production values of Clerks, it does seem kind of odd to have it released on Blu-ray. But even still, the 15th Anniversary Edition is filled with all sorts of bonus features that are sure to satisfy anyone who hasn't already bought one of the most recent DVD releases.
The film itself is shown in 1080p high definition (1.85:1 aspect ratio). It's a rare occurrence where I think it might actually be doing the film a disservice. Clerks is a film that looks bad to to the low-quality film stock it was made on. Therefore, the hi-def picture only makes the bad film stock that much clearer. Audio is in English 5.1 DTS-HD Master.
The Blu-ray includes both the theatrical and original cuts of the film. The theatrical cut has a trivia track with pop-up facts and various counters for things like cuss words, the number of homemade signs and the number of packs of smokes sold over the course of the movie. There's also a commentary track with Kevin Smith, Brian O'Halloran, Scott Mosier, Jason Mewes and others that was recorded back in 1995 for the laser disc release. The original cut has an introduction from Kevin Smith and a newer cast and crew commentary.
The biggest new feature for the Blu-ray is the 90-minute documentary "Oh, What a Lovely Tea Party," which is a making-of piece not on Clerks but rather Jay and Silent Bob Strike Back. As you're scratching your head wondering why it's here and not on Jay and Silent Bob, Smith's intro clears the air.
"Snowball Effect," which I first caught on the 10th Anniversary DVD, is also included. This is a fascinating documentary that traces how Clerks went from being an ultra-small budget film to an indie darling. It's a great look inside the industry and historical telling of how the Clerks legend came to be. The Blu-ray also includes deleted footage left out of the documentary.
Additional content on the Blu-ray includes an unfilmed scene that was later recreated as an animated short, "The Flying Car," another short film that was made for The Tonight Show that reunites Dante and Randal, Mae Day (Smith's student film), and eight spots with Jay and Silent Bob that were made for MTV. The Blu-ray also has a music video for "Can't Even Tell" by Soul Asylum, audition footage, pieces on restoring the film and a question and answer panel filmed for the tenth anniversary.
This is a loaded Blu-ray with tons of stuff. The only problem is that most of it has been released before. For those who bought the Clerks X DVD, they might want to hold off on another copy, but those with early barebones DVDs would benefit most with this Blu-ray.
Clerks Gallery
Clerks Trailer