When a movie adopts the same title as a previous film or television series, there's a natural gravitation towards comparing the two. Now take that same idea and attach the same director to both. How can one not compare the two even if we're being told they're both different. Not bloody likely. Martin Campbell returns to the once edgy and jagged ground of his excellent BBC miniseries Edge of Darkness with a much slicker spin that sheds much of what made the first go around so good. Instead of getting something moody and compelling, the 2010 version is static and rather boring, despite an intriguing premise and solid characters. But we're not supposed to hold one up against the other. Too late for that. And if that were really the case, then why hold onto the same title?
Mel Gibson returns after a lengthy hiatus to play Thomas Craven, a Boston cop whose career is winding down. With his daughter Emma (Bojana Novakovic) over for a visit, Craven's life is changed when she is brutally shot down on his doorstep. The police investigation goes on way but Craven's own leads go another. He soon discovers that his daughter's death was a part of something much bigger involving weapons and the volatile international scene.
Edge of Darkness holds onto the gray areas in characters and the world around it to piece together a story that has lots of intrigue. The problem here is that it's boring. Part of it is that the story's been told before and the other part is the bar the revenge film has risen to in recent years. Edge of Darkness simply seems flat next to them. Films like Taken may seem unrealistic and brutal but they've also managed to tap into something very carnal. So while extremely violent to the point of wincing, audiences are able to connect with them simply based on a highly emotional level because they do a good job of getting the brutal side of revenge. Edge of Darkness, on the other hand, plays out more like a mystery as Craven looks to get to the bottom of his daughter's death. Revenge is the motivating factor to get things started but then it evolves. These turns themselves are interesting but not how they play out.
Campbell shot the film in a very static way. There's little in the way of camera movements, stylistic flair and the like. Not that pizzazz is a requirement for a good film, but when you're working with material that's been done before and done well with lots of mood and substance, you'd expect that there'd be an attempt to at least show up and do something to make the film stand out.
The original Edge of Darkness may have a somewhat dated storyline in some ways, but the hanging point is in the timeless desire for justice in a world gone mad. This new version feels more like an exercise in Gibson running around chasing anyone who gets in his way. The sense of emotional attachment between father and daughter never comes across strongly. So when tragedy strikes, I still felt somewhat indifferent towards how things played out. Sure, it's horrible to think anyone should have to witness the murder of their child, but it all comes together so coldly here.
Ultimately, what Edge of Darkness comes down to for me is the same question many ask of remakes – what's the point?
Edge of Darkness Blu-ray Review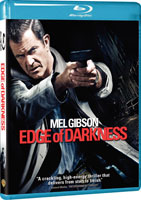 Warner's Edge of Darkness Blu-ray is a combo pack that includes a second disc with a DVD and a Digital Copy of the film. The movie is shown in a strong 1080p high definition picture (2.4:1 aspect ratio) with DTS-HD Master Audio. Additional specs include 5.1 Dolby Digital tracks in French and Spanish, and English, French and Spanish subtitles. The bonus features are led by a collection of short featurettes that look at many aspects of film, the crew and connections to the original film. There's also a nearly six-minute collection of deleted and extended scenes.
Edge of Darkness Gallery
Trailer