Since when did the Russians speak with English accents? Apparently all through WWII. And the Germans had American accents. At least according to Jean-Jacques Annaud's Enemy at the Gates. Perhaps there's some commentary much like Art Spiegelmann used mice and cats to discuss the war in the classic graphic novel "Maus." Or, maybe, it was merely a non-issue considering all of the other issues within this serious film that's difficult to take seriously.
With Stalingrad under siege from the German Nazis, handsome young buck Vassili Zaitsev (a horribly out of place Jude Law) finds himself as the face of a Russian propaganda campaign designed to make scared and exhausted soldiers dig down deep to defend the motherland. Vassili is a master sniper who can seemingly hit anything at any time, as well as outwit his opponents.
As Vassili's tally rises, so too does the enemy's attention his way. The German's have a crack shot of their own in Major Konig (Ed Harris), who comes to Stalingrad simply to challenge Vassili, partly to stop the Russian from stifling German's eastern charge but also as a personal challenge for supremacy.
The background story is filled with the people Vassili meets, including Danilov (Joseph Fiennes), the government official whose idea it is to make a positive example out of the sniper. There's also Tania (Rachel Weisz), a female soldier and – surprise – love interest for Vassili. The romance angle is completely out of place in this film and leads to some horrendous and awkward scenes, particularly the one in which they consummate their relationship amidst dozens of sleeping soldiers. Ugg.
I would have much rather had a couple of extra scenes where Vassili and Konig come to know each other a little better. Through the film, they are arch nemesis for one another but we get to know so little about Konig that their relationship and tension feels hollow. Most of the time it is hard to take Konig as a threat because so little time is given to him. Mysterious can be an exciting attribute in a film but there is a difference between that and the under-development given here.
With such a tremendous cast of fine performers, I expected quite a bit from Enemy at the Gates. And while it does have some solid moments of action, the film as a whole is laughable. I understand that the movie was geared for a commercial release and subtitles would have all but killed any box office potential, but the lack of even trying to hide behind accents was extremely distracting for me. Instead of the normally dependable Bob Hoskins becoming Nikita Khrushchev, we get Hoskins dressed up as some old rolly-polly looking guy talking like he's a mid-western high school football coach. On the same token, Law is far to cleaned up and perfectly lit to be believable as a Russian sniper whose country is on the verge of falling. After years of sacrifice I'd expect him to be in a little rougher shape than he is.
Despite the many misgivings I have for Enemy at the Gates, I thought the cinematography and set designs were excellent. The bombed out details of Stalingrad are detailed and create a haunting backdrop for the film. It adds a dimension of seriousness that is missing from most every other part of the production. The look goes a long way in showing the worn-down nature of Stalingrad circa 1942 and how little was left for its residents to get behind, celebrate and fight for.
By all appearances, Enemy at the Gates is a pedigree type of film that upon its release is supposed to generate critical buzz. It's got the subject matter and the cast but what it doesn't have is follow through. The film feels like something that was a good idea on paper but very few involved got passionate about. The result is a film that looks good but feels like a missed opportunity given the potential for the subject matter.
Enemy at the Gates Blu-ray Review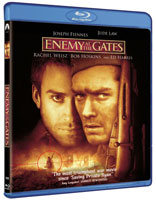 The Blu-ray release for Enemy at the Gates is a solid affair without a lot of bells and whistles. The film looks excellent with its widescreen 1080p high definition picture. The sharpness really stands out with the sweeping scenic shots of the Stalingrad rubble.
As far as bonus features are concerned, there's two featurettes about the making of the film and a handful of deleted scenes. "Through the Crosshairs" has the look and feel of a promotional featurette that combines clips with interview sound bites from the cast and director to hype the film. It runs 20 minutes in length and there's not a lot of substance to it. Interviews come to the forefront once again in the 15-minute "Inside Enemy at the Gates." The cast and director talk about one another in the most positive of ways, including a loving breakdown of the ridiculous lovemaking scene that I could not stand. The nine additional scenes run a combined total of ten minutes. Finally, there's the theatrical trailer, which is the only feature shown in HD.
Enemy at the Gates Gallery
Trailer