Nearly 60 year after the release of the landmark achievement Fantasia, Disney returned to the concept with a more streamlined yet equally uneven production. Although magnificent and filled with imagination, Fantasia 2000 doesn't hold up as being particularly ground-breaking or innovative. Rather, it often feels likes it's cashing in on an apparent Walt Disney dream of going back to the Fantasia well when the technology warrants it. If that were truly the case, then the idea of tossing Mickey Mouse back up there again as The Sorcerer's Apprentice undermines it.
I remember seeing Fantasia 2000 back when it was first released in IMAX back in 1999. At the time I remember being overwhelmed by the sheer spectacle of the size. But since, seeing non-nature programs in the over0szied format has become much more commonplace. So revisiting Fantasia 2000 without the spectacle element and some of the holes start to shine through.
The opening half of the film is its strongest. Fantasia 2000 opens with an abstract take on Beethoven's Symphony No. 5. It plays with music and shape and doesn't focus on a story. This holds for me as the most innovative and emotional piece, despite the fact that it doesn't carry a story. Following Beethoven is a group of flying humpback whales in Ottorino Respighi's Pines of Rome. Touching and magical, it too touched an emotional spot. Changing pace is the stylized Rhapsody in Blue, which offers a slice of Depression-era Americana as it goes through New York City in the 1930s.
Following these, little else stands out in a positive sense. Nothing's horrible, but they don't hold up to the Fantasia name. There's also the odd idea that something that worked one time, doesn't here even though it hasn't changed. The culprit is The Sorcerer's Apprentice, aka the Mickey Mouse number with the water-carrying brooms from the first Fantasia. I figured that the Donald Duck-starring Pomp and Circumstance would have filled the familiar character quota. Apparently not. Don't get me wrong, I love The Sorcerer's Apprentice as a part of Fantasia but I remember noticing right away how the scratched and unpolished didn't jive with the new pieces. It's not presented as a nod to the original – that might have been just an abbreviated snippet leading into a main number, much like the addition of celebrity narrators such as Whoopi Goldberg and Steve Martin did.
Whether or not Disney continues to add to the Fantasia playlist in another 40 or 50 years remains to be seen. There's an endless supply of music to choose from, but I'm not sure the medium warranted even this sequel. When Fantasia originally came out, feautre-length animation was still very new. It was a developing medium. Although animation continues to evolve, Fantasia 2000 doesn't represent nearly as much innovation as such a project might otherwise justify. Yes, some pieces are a marvel to watch but others simply feel like another animated cartoon. This ultimately undermines the project as a whole.
Fantasia 2000 Blu-ray Review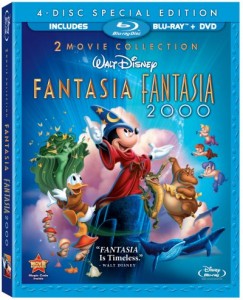 Fantasia and Fantasia 2000 both arrive on Blu-ray for the first time together in a value-pack four disc combo pack that not only includes both films in hi-def, but also on DVD.
Fantasia is shown in its original full screen format. It looks fantastic – cleaned up yet still maintaining the slightly grainy feel one would expect with its original release. Disney has also included a DisneyView option, which frames the sides of the film with different subtle graphics to help fill the screens on widescreen TVs. Audio is in English 7.1 DTS-HD MA, along with 5.1 mixes in French and Spanish. The high presentation values carry over to Fantasia 2000. The film benefits from a gorgeous widescreen picture and the same audio options.
Bonus features on the Fantasia disc kick off with a short, four-minute look at the Walt Disney Family Museum, its history and its vision. "The Schultheis Notebook: A Disney Treasure," a bible of sorts that outlines the ground-breaking special effects of the film. An interactive art gallery offers a massive number of production stills and materials for both Fantasia and Fantasia 2000, sortable in many different ways. Finally, there's not one, not two but three commentary tracks. The first is from Disney historian Brian Sibley. The two other commentaries have been carried over from the previous DVD release of the film. One mixes interviews and story note recreations from Walt Disney and is hosted by John Canemaker. The other sees Canemaker return alongside executive producer Roy E. Disney, conductor James Levine, and film restoration manager Scott MacQueen.
On the Fantasia 2000 disc, several additional bonus features add to the Fantasia mystique. "Musicana" is a nine-minute look at a once-proposed follow-up to Fantasia. Something that I've personally been looking forward to watching for sometime, the animated short Destino, a collaboration between Walt Disney and Salvadore Dali, is finally released as a bonus feature on this disc. A background on the project is highlighted in the feature-length documentary Dali & Disney: A Date With Destino. Disney's Virtual Vault collects short bits on all of the pieces from both Fantasia and Fantasia 2000. Like the Fantasia disc, Fantasia 2000 also includes multiple commentary tracks, both of which come from the original DVD. The first is from Roy E. Disney, Levine and producer Don Ernst. The other includes the directors and art directors for each of the film's musical segments.
Fantasia 2000 Gallery
Trailer