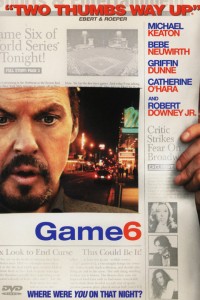 Success is paved by failures. We all screw up. But those who learn from those mistakes move on. Or at least they do on the surface. Michael Hoffman's Game 6 uses the infamous 1986 World Series as a backdrop for exploring the concept of failure and its ability to grip us, even at times when we appear to be perching on greatness. Filled with heavy dialogue, it's a film that feels more appropriate for the stage. That said, it takes on challenging themes and deep thoughts.
Michael Keaton stars as Nicky Rogan, one of America's greatest playwrights. His latest film is set to open just as New York is enthralled by the Mets and the 1986 World Series. Their opponents: the Boston Red Sox, a team that went decades without a World Series. Rogan was a fan of Boston, despite a lifetime of heartache. The team's failures became a part of who Nicky was. As Nicky puts it, other teams simply lose but the Red Sox make it more like a classic tragedy. Time and time again, they get so close, only to find a way to blow it in style.
With the Red Sox one win away from winning the World Series, Nicky spends the day expecting the worst. Not only from his beloved baseball team, but for his new play and life in general. His marriage has fallen apart. His lead actor can't remember his lines. And, worst of all, Steven Schwimmer (Robert Downey Jr.), a stinging critic, is expected to be in the audience. And while one could just as easily look at Nicky's successes, Hoffman wallows in the impending doom.
By setting it in 1986, everyone who has even a remote interest in baseball knows of the epic collapse of the Red Sox. It plays out exactly as Nicky fears, with the team getting so close only to have it slip away in an unimaginable fashion. In this case, through the legs of Bill Buckner. That impending doom that surrounds the game adds tension to Nicky as he seeks critical acceptance for his new play.
It all boils down to an old Western, complete with Nicky and Schwimmer arming themselves — literally — for a final showdown.
Game 6 is heavy on talking. Very heavy. Much of it is cloaked in double meanings that isn't clear at first. But Hoffman's use of repetition helps. That said, I found a lot of Game 6 went over the top, talking big but not really backing it up. It relies too much on the word and not enough of the visuals. That said, Downey going through the motions of a Buddist ritual may have had some bigger meaning that flew over my head. It all felt a lot like Game 6 is better suited as a play itself. But then it probably wouldn't be able to deliver such a strong cast.
Keaton stands out as Nicky, particularly towards the end when everything comes together. As the stakes get higher and the pending Red Sox implosion looms, Keaton is able to convey his character's highs and lows without going over the top. He remains grounded and holds it all together.
Game 6 is not a traditional baseball film. Rather it uses one of the sport's most famous modern moments to delve deep into a discussion of failure and success. It's a little bit uncomfortable, but failure isn't easy to tackle. At least it shouldn't be if it actually tackles it with some substance, which this film does.
Game 6 Trailer
Game 6 Gallery