No, it`s not an Old Testament sequel or any sort of sequel for that matter. But the Gene Roddenberry penned telefilm, Genesis II, does have a striking similarity to Planet of the Apes minus the damn, dirty apes. It`s a solid film of somewhat dated Cold War-era warnings of global conquest and strife filled with moments that are both dramatic and laughable at the same time. But for that I partially thank star Alex Cord`s distractingly bushy mustache.
Cord stars as Dylan Hunt, a scientist who tests himself on his suspended animation experiment. It works, however he`s stuck in his electric tomb for more than 150 years as the world goes under some drastic post-apocalyptic changes. When he wakes up, much of the world he knew is gone, wiped out by a great war some time in the past. What`s left is a primitive society with little technology. It proved to be too complicated to maintain so humanity has taken steps backward in order to simply survive.
When Hunt wakes up, he`s instantly an intellectual circus freak of sorts. All those in power and those who wish to hold power try to be his friend. Hunt instantly becomes the hearer of many secrets and reveals as members of opposing factions reveal to him within minutes of being alone that they`re actually spies. Basically, it`s people known as Pax pitted against the, literally, underground Tyranians. The Tyranians also happen to be mutants with an extra belly button for double the navel gazing. What it boils down to is Hunt having a choice to pick a side with whom he`s going to share his technological prowess with and give the futuristic upper hand.
Now being released through Warner`s on-demand Archive Collection, Genesis II is a film that plays it straight, yet it`s hard not to want to throw out some snarky comments at the screen (think Mystery Science Theater 3000) every couple of minutes. Whether it`s Cord`s man-stache, second belly buttons or suddenly changing alliances, it`s hard to take some of the serious moments seriously. The film is very obviously a product of the early 1970s and contains many dated costume and set choices.
Like most Roddenberry works, the story carries a message. At times it seems a little strong, but overall it doesn`t feel overly preachy. With a shortened running time, a lot of the twists and turns feel rushed and it`s tough to get a sense for who many of the characters really are.
Despite its cheesy facade, likely brought on by style trends and budget, Genesis II has a lot more substance than I`m used to from a made-for-TV movie. It`s intelligent and largely entertaining, even if sometimes it is for the wrong reasons.
Genesis II DVD Review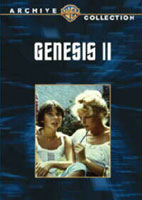 Like other films in Warner`s Archive Collection, Genesis II comes to on-demand with a very basic set-up. The film, shown in its original full screen format with English mono soundtrack, hasn`t been cleaned up. That`s not to say that the film looks horrible, though. In fact, given the age, I was pleasantly surprised with how well it did look. There`s noticeable scratches and blemishes but nothing that`s overly distracting.