I've never fully understood the mockery and laughter that once followed Ben Affleck. Sure there was Gigli and Daredevil, but everyone seems to make a paycheck turd every now and again. Since becoming a dad, Affleck has largely disappeared from the tabloid eye (by choice or because he hasn't made a buzz film in sometime, the choice is up to you if you're really concerned). He's back, but this time behind the camera. And I'll be danged, Affleck's directorial debut Gone Baby Gone is a beautiful and tragic piece of art.
When a young girl goes missing, the private investigating couple of Patrick Kenzie (Casey Affleck) and Angie Gennaro (Michelle Monaghan) are hired by the toddler's family to slip into the cracks the police gloss over. Patrick soon discovers that there's more to the disappearance than a simple kidnapping. Like a prodigal son, he returns to his old Boston neighbourhood, which has a long history of being run down and overtaken by drugs and crime. Patrick has grown up, his neighbourhood hasn't.
Watching the film I quickly noticed a lot of similarities in feel and texture to Mystic River. I wasn't surprised to find out they're both based on novels by Dennis Lehane. Like Mystic River, the cast of Gone Baby Gone is deep and setting is a major center for the conflict.
Gone Baby Gone has layers upon layers of stories. They're all connected but the characters and setting are so deep, they are constantly adding more and more to the picture. It's through these fleshed out characters and the devastating look at the inner city that makes Gone Baby Gone so special. There's always this tension floating in the air, even when guns aren't drawn and the drama is already heightened.
Patrick is something of an anti-hero. He is a product of the rough neighbourhood he is investigating. He presumably played Excitebike and Ninja Turtles with the same boys who have grown into drug dealers, thieves and even murderers. Even as an investigator, Patrick isn't necessarily someone you'd want to have come over and babysit. He's a little too comfortable on the streets. It's like the ghosts of his roots are calling for him to make it all home again. But Patrick is the hero in this story because his motives are simple and pure: to make his neighbourhood a better place. That doesn't mean make it perfect or even ideal, just better.
The reason why Gone Baby Gone works so well is the attention to which Boston is portrayed. The urban neighbourhood is like another character in an already strong cast, one that has needs and desires just like everyone else. Affleck spends a lot of time panning to streets and backgrounds showing what's going on. He's also shattering the utopian myth of the American Dream, instead recasting it as something of a nightmare. Yet within all the bad, Gone Baby Gone is a tribute to good intentions. Every character wants the best of themselves, not the best for themselves. It's something of a morality play but one that is poignant and thoughtful.
Gone Baby Gone DVD Review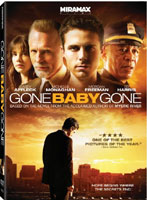 Gone Baby Gone is shown in a sharp enhanced widescreen format (1.85:1 aspect ratio) that does the dark mood of the film justice. Audio is in Dolby 5.1 Surround with additional tracks in Spanish and French. Subtitles are in English, Spanish and French.
Director-writer Ben Affleck and writer Aaron Stockard provide a drowsy commentary track. It's somewhat sparse, inanimate and doesn't add a lot to the overall picture. Other bonus features include six deleted and extended scenes with or without commentary from Affleck and Stockard. These scenes include both an extended opening and end, although they can only be viewed separately from the film. "Going Home: Behind the Scenes With Ben Affleck" is a pretty standard making-of featurette that combines cast and crew interviews and short film clips. "Capturing Authenticity: Casting Gone Baby Gone" is a short love-in for the film's stars and for the Boston inner city. The disc's preview selection includes No Country for Old Men, Dan in Real Life and Becoming Jane.
Gone Baby Gone Gallery
Gone Baby Gone Trailer