No disrespect to the Green Lantern character, but he's never been as high-profile a character as his Justice League peers Superman, Batman and Wonder Woman. Although a big part of superhero history, the Green Lantern has always been a member of the upper second tier where he's known amongst comic fans and non-fans, but he's not normally one of the first heroes people list off. Likewise, Green Lantern: First Flight, the latest animated feature from Warner based on the DC Comics universe, sits below their other films based on the Justice League leaders. More interested in the villain than the hero, First Flight is a bland look at one of the sides of the DC universe that's normally much more interesting.
While out on a practice flight, military pilot Hal Jordan (voiced by Christopher Meloni) comes across a crashed alien spaceship. Its pilot gives him a green ring that turns Jordan into the Green Lantern and makes him part of an elite force of universe protectors. Amongst his alien peers, Jordan faces prejudice seeing as how he's a human and all. But he's taken under the wing of Sinestro (voiced by Victor Garber), a veteran of the Green Lantern Corps who has also been secretly scheming to destroy the Corps.
What I've always enjoyed about Green Lantern is its distinctly science fiction take on the hero realm. It brings with it cool creatures and distant worlds without seeming out of place like it can in more Earth-grounded comics like Batman or Spider-man. First Flight offers no shortage of such creatures, making for one of the more interesting parts of the film. However, this is an origins story and as much attention as possible needs to be placed on the main character. By devoting a lot of time to the Green Lantern Corps, it takes away from Hal Jordan's story and what he brings to the table. Had First Flight been about the Corps as a group like the X-Men, then this would have been understandable. But it's not. The story revolves around Jordan becoming the Green Lantern but much of the time is spent on the other members. This means that there's a lot of wasted time with things that could have been condensed.
It's to the point where Jordan is actually kind of boring. He's clearly overshadowed by Sinestro, a delightfully deceptive character who has more motivation than anyone else in the film. He has a purpose, it's put forth clearly and he's got the character to back it up. Whereas Jordan's story is one that revolves largely around fate, Sinestro 's is one of yearning and struggle. So let's see here, destiny or desire, which is more dramatic?
Like other recent direct-to-DVD animated features like Batman: Gotham Knight and Wonder Woman, First Flight has solid animation behind when it sticks to the two-dimensional look. There's a few scenes in which some computer-generated three-dimensional animation is introduced and it just doesn't look right. It's been done lots in the past decade and it's never looked good. The two styles don't blend. While I understand the desire to look cutting edge and fancy, it's actually quite distracting to watch. When First Flight sticks to the traditional animation path, it works so why mess with it? Green Lantern, as a franchise, has lots of potential. It's just disappointing when the secondary villain overshadows everything else the film could have had going for it. Had Hal Jordan been as dynamic as Sinestro, First Flight could have been an excellent film. However, he's boring in comparison and the film as a whole follows suit along with him.
Green Lantern: First Flight DVD Review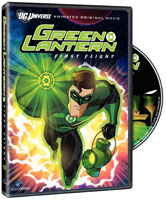 The single-disc DVD version of Green Lantern: First Flight presents the movie well, however it's pretty short on original bonus features. The widescreen picture is clean and bright and audio is in English Dolby 5.1 Surround. Subtitles are offered in English and French.
There's two new bonus features to this release. The first is a preview of the next animated film stemming from DC Comics characters: Superman/Batman: Public Enemies, which is primarily a series of interview clips from the creators hyping up their work. The second is an overview of the "Blackest Night" storyline from the Green Lantern comic book that runs throughout the DC Comics line. Other features include previously released featurettes from JLA: The New Frontier, Batman: Gotham Knight and Wonder Woman.
Green Lantern: First Flight Gallery
Trailer