Now that it's almost 30 years after the fact, it's easy to claim Apocalypse Now as a major achievement in modern filmmaking. But in the months and years of production, it was a train wreck. With the mentality that slows you down to look at a car accident on the side of the highway, Hearts of Darkness is a fascinating look at the making of the Francis Ford Coppola Vietnam classic. More importantly, this is a documentary that deconstructs the passion and madness tapped in the creation of art.
Hearts of Darkness shows the artistic struggle at its most primal. Sure, Coppola was on the hook for millions of dollars of his own, but he was more concerned with his final product. He wasn't intending to create a blockbuster, but rather a piece of art disguised as a blockbuster. He wanted it filled with feeling and ideas as an exploration of what Vietnam meant. To his own admission, Coppola also wanted the sex, drugs and violence so that people would come and see his film as well.
There is something very carnal about watching the production fall apart and see the reputation of Coppola hang in the balance. Of course, this is somewhat in retrospect because you know the end result of the film getting made. But it all comes back to the process. Coppola is seen shaking, his body literally breaking down as he drops dozens of pounds. He stresses over the smallest details, which snowballs into a near nervous breakdown when big things go wrong. From typhoon floods destroying sets to a major heart attack from star Martin Sheen and a whole lot of other crises in between, Apocalypse Now became the fodder for much speculation and jokes in the Hollywood world.
Like the symbolic journey down the river taken in Apocalypse Now, Coppola endures his own journey. Hearts of Darkness does an excellent job recreating it, similarly to the parallels between Terry Gilliam and his failed attempt to adapt Don Quixote that was captured in Keith Fulton and Louis Pepe's Lost in La Mancha.
One of the benefits of the retrospective nature of Hearts of Darkness is the fact that all those involved have had a chance to spend a large amount of time looking back on the making of Apocalypse Now and give it more meaning. Of course, it helps greatly that the film went on to become a success in every regard upon its release because otherwise it would have become a monumental disaster. The cast and crew comments are honest. Usually these sorts of conversations are the ones that don't make the tabloid rags. Instead you get generic hype-induced fluff interviews that air on late-night talk shows that are meant to sell opening weekend tickets rather than shed light on the process of making movies as a form of artistic expression.
Hearts of Darkness successfully portrays Coppola as a martyr to his work. Only thing is this martyr survived and went on to make more films – only now he's missing more than he's hitting. But even if he doesn't make a strong film ever again, Coppola will forever be known as a man who, at least in one point of his career, was willing to lose it all for his art.
Hearts of Darkness DVD Review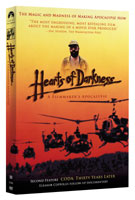 There are not a lot of bonus features on the Hearts of Darkness DVD, but if you're like me you're probably just happy to retire the VHS copy from your collection. "CODA: Thirty Years Later" is an hour-long documentary from Eleanor Coppola in which she follows an older and more grey haired Francis Coppola as he makes Youth Without Youth. Although it aims to show how he's changed as a filmmaker it feels more like a promotional documentary. There's not nearly the drama as there is in Hearts of Darkness so if you're watching the two back-to-back, you may be disappointed. The second feature on the DVD is an audio commentary from Francis and Eleanor. The pair are open and honest and add more to the overall impact of the picture.
Hearts of Darkness is shown in its original full screen format with English 2.0 Surround audio. Subtitles are offered in English, French and Spanish.
Hearts of Darkness Gallery
Trailer