If you've ever seen a Bollywood musical before you'll know that there's a few staples to the "genre": boy meets girl, boy and girl spontaneously sing and dance in elaborate numbers, boy loses girl, more music, more dance, boy gets girl again, the end. All the while, this is done with only the biggest of heartthrobs and dreamboat beauties. Bollywood is a phenomenon in India, dominating the box office.
Although not a theatrical franchise (yet), Disney's High School Musical proved to be a phenomenon itself. Bringing the Bollywood formula and Disney-fying it, the made-for-cable movie dominated the ratings, the music charts and made idols out of its stars. Not to mention creepy dolls. With even more fanfare, High School Musical 2 went even further with the Bollywood charm and raked in more than 17 million viewers on its first showing on cable television.
Although extremely corny (just like Bollywood), I did find myself caught up in the film's charms and energy – maybe not like a giggling schoolgirl, but rather as someone who recognizes High School Musical 2 for what it aims to be. It's light and fluffy fun that's largely harmless. In 20 years there's also going to be a lot of parents explaining to their children that yes, "Mommy and Daddy did dress like that."
With summer upon the East High Wildcats, Troy (Zac Effron), Gabriella (Vanessa Hudgens) and the rest of their picture-perfect gang take to the country club – either as employees or as spoiled patrons, depending on which side of the proverbial tracks you're from. Rather than getting ready for a school musical, everyone is excited about the annual talent show at the club. With Troy and his singing and dancing prowess "out of the closet", he's now being tempted to the dark and shallow side of Sharpay (Ashley Tisdale), the snooty debutante. She puts Troy's loyalties to the test like only a moral Disney film can.
What High School Musical 2 lacks in sophistication and depth it makes up for in charm. It's hard not to like these characters. I've been told over and over that if you smile enough people smile in your general direction or at least in your general vicinity. That's what's going on here. Everyone is so giggly and optimistic that you can't help but get caught up in at least a little of the fun. The musical numbers are elaborate and easy to want to sing along with. They're over the top to the point where you overlook some of the film's shortcomings – mainly in the plot department.
Where the sequel differs from the original is largely in the context of the musical numbers. With the first film, song and dance fit directly into the plot most of the time. It was all about trying out and getting ready for the school production. This time around things are much more Bollywood spontaneous. The choreography can happen at anytime and anywhere. While it keeps you on your tapping toes, it's also, at times a little disruptive.
Like it or not, High School Musical is a part of pop culture. It will continue to be mega-popular for another year or two before it disappears for a decade or two and reappears as a nostalgic High School Musical Reunion or something of the like. As long as it stays true to its simple fun, things could be a whole lot worse.
High School Musical 2 DVD Review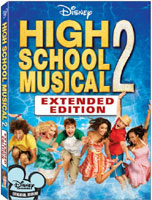 High School Musical 2: Extended Edition comes with an additional musical number not included in the original broadcast. The film is presented in a colorful full screen format with Dolby Digital 5.1 Surround so the bubble gum soundtrack can pop all throughout your room. Extra features include extensive musical rehearsals, four minutes of bloopers, four music videos, karaoke and on-screen lyrics. There's also several previews for Disney films, DVDs and television shows. There's plenty of interactivity for those looking to have a HSM party but not much else of substance.
High School Musical 2 Gallery
Trailer