School's out. And thank the little baby of your choosing because if all goes according to plan and none of them flunk their final exams, it's off to college, university and beyond for the Wildcats gang in the wildly popular High School Musical franchise. And not a moment too soon. Like the burnouts who stick longer than their leather jackets warrant, the shtick has gotten stale. The theatrical release of High School Musical 3: Senior Year may have given director Kenny Ortega a little more creative freedom, not much else has changed from the first two films. So while I sort of enjoyed the previous instalments – or at least appreciated where they were going – this third go around is just plain boring.
It's senior year and the students of East High are getting ready for the great beyond. But first they must sing. And dance. And sing and dance. Somewhere in there amidst the music, the upper middle-classers who all share the same impeccable behavior, they've got to choose which college or place of higher education they're off to come fall. But when the pressure gets to be too much, there's always time for a little singing and dancing. If nothing else, High School Musical 3 gave me a few tips on how to really maximize one's procrastinating.
The entire High School Musical franchise has made a name for itself by giving the Bollywood formula of song and dance routines coming out of nowhere to tell a story of romance and innocence. It centers around Troy (Zac Efron), the dreamy basketball star turned American Idol wannabe, and Gabriella (Vanessa Hudgens), the one-time new girl who messed up the status quo at East High. The couple are squeaky clean offering nothing objectionable other than the fact that they're a little too perfect.
High School Musical 3 does offer some tremendous numbers. The choreography exudes energy and showmanship, even if it is done to a catchy but ultimately disposable soundtrack. However, other than the musical part, the rest of the film fails to live up to its title. For a movie that runs nearly two hours, the high school part is where you'd think the conflict would take place. All that emerges, though, is the struggle to choose which school they're off to next and not much else. That's the sort of problem an episode of any sitcom can work out. Give it added depth and you can maybe stretch it to a two-parter. But here's it's a dreadful excuse for more singing and dancing.
The charm of High School Musical was that it was fresh. Unless you lived in a large city that had a theater dedicated to Bollywood, had a cable channel that would show Hindi films on weekends or access to an ethnic convenience store with a selection of Bollywood DVDs, the energetic combination of song and dance was likely something new to its young target crowd.
High School Musical 2 offered much the same but things still felt somewhat new and the story was moving forward so it still worked. But here the song and dance is old. Nothing new arises. It's almost as though it exists to bring a sense of closure to the franchise for the fans who grew up with it, let them know that it's time for these Wildcats to move on and leave the school to a new class of pretty faces with hot moves. Hopefully the suits will resist the urge and let the franchise live on with massive royalty checks and licensing bonanzas.
High School Musical 3: Senior Year Blu-ray Review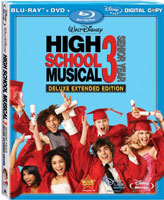 With a release that shows just how splintered the home market is becoming, the three-disc Deluxe Extended Edition Blu-ray release of High School Musical 3 presents the film in three different formats: Blu-ray, DVD and Digital Copy. The purpose is to provide value for those sitting on the fence about buying a Blu-ray player or are considering one at a later date. With all the formats in one package there's no need to buy two copies of the same movie.
The musical routines look great with the Blu-ray's 1080p high definition widescreen (1.85:1 aspect ratio). Audio is in English 5.1 DTS-HD Master Audio with an additional Spanish track in 5.1 Dolby Digital. English and Spanish subtitles are also offered.
There's a couple of different ways to watch the film aside from your traditional approach. A sing-along version puts the lyrics on the screen. A song jump feature allows you to jump directly to your favorite tunes. Equally unique is the video yearbook approach to going behind the scenes. Different "pages" provide a theme for the particular topic used for that part of the program. Mini featurettes include looks at costume, choreography, the making of the prom and the cast and crew's own votes for high school awards (which include a surprise choice for Best Couple). There's also deleted scenes and bloopers. The format is a little confusing to get a handle on at first, but it's not bad after getting used to it. Online BD-Live users can access additional features such as uploading pictures and profiles to an online yearbook. You can also record commentaries and share them with other users.
From top to bottom, this Blu-ray release pushes boundaries as to where the format is going, even if all of the content itself isn't the greatest.
High School Musical 3: Senior Year Gallery
Trailer