Finally. After three decades of movie watching I've finally discovered I have a heart after all. Until now I'd never shed a tear over a movie. Never. Not in The Notebook, not in Old Yeller, not in In America. I don't know what it was, but even in the saddest of movie moments I couldn't visibly shed tears. I could be all wretched up inside, twisting and turning, feeling for what was happening on the screen but I just couldn't get that drop out. Ironically, I didn't even think Marley & Me was that great of a movie.
Based on the memoirs of John Grogan (played by Owen Wilson), Marley & Me charts the marriage and family life of a Florida-based newspaper columnist. Marley, the family's pet, is the frame in which the story is told. He's a bad dog that can't be controlled. Marley eats furniture, chases anything that moves, barks constantly and is capable of destroying just about anything. But he's a dog and on-screen anything this dog does has a certain cute factor going for it. Why? Simple. He's not your dog.
Through the dog we experience John's adult life including his struggles with his career, his marriage to his wife Jennifer (Jennifer Aniston), a fellow journalist, and his children. There's really not a lot of tangible plot save for the evolution of John via Marley. It's a lot of "life" scenarios and vignettes that all connect together.
While none of these bits are particularly bad, I just wanted a little more of a conflict, you know this triggers that, which leads to that. Instead we get (paraphrased to prove a point), "I got a new job. Marley – stop eating the drywall!" and "I'm pregnant! Marley, come back here!" What it boils down to is Marley driving the story that's not really about him. It's John's story, therefore it's his film. That's how the first two acts are.
It's in the third act that a tangible plot finally emerges. Not surprisingly, this is where I got all weepy too. Why? Because there was finally something that needed to be resolved. Marley & Me finally got me emotionally involved. Therefore when things do happen I reacted – with tears and lots of them.
Wilson and Aniston are simply okay in the lead roles. They play the parts straight and don't go far from how you'd expect them to. Wilson continues to carry the laid back, surfer dude vibe, while Aniston could have just as easily been named Rachel and drank coffee in a shop called Central Perk, only slightly more mature in her personality. I didn't really buy them as a couple, more extensions of their Hollywood personas conveyed through the inescapable media soundbites.
Marley & Me is a film of moments and many of them are cute. For anyone who has ever had a dog or a close pet, there's bound to be some connection. That's part of how I ultimately connected with it. Marley takes this situations to extremes. This makes it easy to sit back and think back to a time when your own pet did something similar.
Marley & Me Blu-ray Review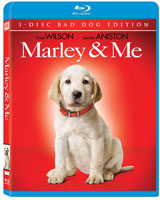 Fox appears to be joining the "added-value" Blu-ray releases with the three-disc Bad Dog edition of Marley & Me. The Blu-ray itself is held on just one disc, but you get additional copies of the film via a DVD and a Digital Copy.
The film on the Blu-ray disc looks and sounds great. The movie is shown in an ultra-sharp widescreen format (2.35:1 aspect ratio). Audio is in an English DTS HD 5.1 Master Lossless audio with additional tracks in Spanish, French and Portuguese 5.1 Dolby Surround. Subtitles are offered in six languages: English, Spanish, Cantonese, Mandarin, Korean and Portuguese.
The extra features kick off with 19 deleted scenes totaling 25 minutes. All can be viewed with or without audio commentary from the movie's director David Frankel. "Finding Marley" is an eight-minute featurette that looks at the search for the perfect canine actors. "Breaking the Golden Rule" is another eight-minute featurette that looks at working with dogs. Stars Jennifer Aniston and Owen Wilson are among the many interview subjects. The standard behind-the-scenes look is replaced with "On Set With Marley: Dog of all Trades," a largely unfunny take-off on making movies from a dog's point of view. "Animal Adoption" presents a public service announcement in the form of light entertainment, which talks about being responsible pet owners and adopters. "When Not to Pee" is deep stuff as it talks about training dog actors to pee with a certain leg on command. Other bonus features include a gag reel and a trivia track geared at those wanting to train dogs.
Marley & Me Gallery
Trailer