Pain comes in many forms. It can be physical. It can be emotional. Whichever the case, the very essence of pain is a feeling of hurt, something that needs to be overcome. Based on the novel by Nicholas Sparks, Nights in Rodanthe is an exploration of familial pain and growth that is itself painful at times, even if stars Diane Lane and Richard Gere put on a solid show.
Lane plays Adrienne, a mother at a major crossroads in her life. Her husband (Christopher Meloni) left her for another woman a short time ago and now he wants to bring their family back together. Adrienne knows what the right answer is but she has her doubts. Gere stars as Paul, a surgeon who's got at least a couple of issues of his own. Firstly, there's the fact that he lost a patient on the operating table. It's explained as a freak accident, but a haunting loss nonetheless. Paul's issues run much deeper though. His relationship with his son (James Franco), now a doctor himself, is strained to say the least.
Adrienne and Paul's paths cross at a beach side inn located on North Carolina's gorgeous Outer Banks. Adrienne is looking after the inn for her friend while Paul is the lone guest in town for some personal business. The two share meals, wine and lots of heartfelt conversations about life, their problems and lots in between. It all amounts to therapy and many lines of dialogue that sound great when you read them on a page but sound downright hokey when spoken aloud.
Nights in Rodanthe is largely a recycled collection of clichés and familiar situations occasionally made tolerable by the chemistry between Lane and Gere. I mean, the succotash-tossing therapy session is downright bizarre. You almost get the sense that Lane and Gere feel it too as they play it out.
As the film drags on, the plot "twists" – and I use twists lightly as most everything is entirely predictable – make the story drag on further than it needs to. The heart of the story is the broken lives Adrienne and Paul share, not a possible romance between the two. By the hour mark, there's enough revelation and resolution to bring the movie to a plausible if not comfortable close except for the fact that theatrical movies should run a little longer than an hour. The tacked on act takes the story in a new and unnecessary direction that not only completely changes the tone of everything that comes before it, but it's nothing entertaining or enlightening either. Rather it's an annoying series of contrivances that trump all the other clichés that came before it.
I haven't read Nights in Rodanthe so I can't speak to whether or not some of the themes were lost in the translation. However, the film version is far from the moving and heartfelt tugs Sparks' The Notebook created when brought to the screen. Nights in Rodanthe is a movie that looks and sounds a whole lot bigger than it actually is.
Nights in Rodanthe Blu-ray Review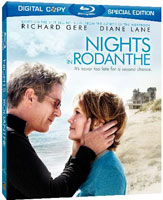 The lovely east coast in Nights in Rodanthe is gorgeous and vivid with the Blu-ray's excellent widescreen 1080p high definition transfer. Audio comes in only Dolby Digital 5.1 with optional subtitles in French, Spanish and Portuguese. These languages are also available in subtitles.
Bonus features include five deleted scenes with optional commentary from director George C. Wolfe. "The Nature of Love" features the lamentations of cast and crew about their involvement in the film and their thoughts on the meaning of love as conveyed by the film. Singer Emily Lou Harris provides additional insights and inspirations in "In Rodanthe." Author Nicholas Sparks is interviewed and profiled in "A Time for Love." Finally, there's the music video "Love Remains the Same" by former Bush front man Gavin Rossdale.
Nights in Rodanthe Gallery
Trailer