In the past, it'd be hard to find a film where a prostitute is made to look like the best girlfriend ever. But that's exactly what Julia Roberts does in Pretty Woman, Garry Marshall's delightful modern fairy tale. He takes the Disney princess and puts her in the real world, creating a chick flick with a little bit of edge, a whole lot of heart and even more chemistry between the film's two leads: Roberts and the more-often-than-not creepy Richard Gere.
Roberts plays Vivian, a girl who means well but simply struggles to get by. She spends her evenings as a hooker and her days being one of the girls amongst her friends. When she's approached by the very rich Edward (Gere), they engage in a longish short-term arrangement that provides him with some arm candy and her with some much-needed cash. But as the two spend more and more time together, here comes the shocker, they start to fall for one another. Vivian is made to feel like a lady and Edward is given a genuine reason to care for someone, a far cry from his ruthless dealings behind the closed board room doors.
For Vivian, Pretty Woman marks a Cinderella story where, through her arrangement, she gets to live the perfect shallow life. There's bubble baths, late night TV, champagne and strawberries, shopping and flipping off rude shop keepers. And never underestimate the power of the Audrey Hepburn-esque hat. By the end of the film Vivian has multiples.
It's tough not to fall in love with Pretty Woman. Despite Vivian's career, the film really is light-hearted. Besides, prostitution is apparently the oldest job out there, so discussing it really shouldn't be a big deal. Marshall dances around the implications of her profession somewhat, wisely focusing instead on who she is as a person. Hooking is something of a persona. Vivian won't kiss clients on the mouth because that'd be too personal. Work is an act. It's when that persona breaks down that Vivian and Edward find a connection. It's also when the film shines as Vivian is allowed to be the girl-next-door type that most guys are likely going to fall for.
A legend in her era, Roberts is at her most memorable here. Pretty Woman is the film that launched her into becoming one of the industry's most popular and bankable stars. Her charm and glamour fit the role perfectly. Roberts plays Vivian something as a child, bringing a charm and innocent appeal to an unlikely spot.
Equally important to the film's charm is her chemistry with co-star Richard Gere. While I'm not normally a fan of his work, Gere is cast nicely alongside Roberts. They play off of one another as Roberts' youthful excitement compliments the always serious demeanor that Gere gives off.
Pretty Woman is one of those movies that if you have to describe it to someone they'd likely roll their eyes at you. And that's the thing, the premise isn't a great one. But with all of its heart and excellent chemistry, Pretty Woman is one of the most satisfying romantic comedies of its generation.
Pretty Woman Blu-ray Review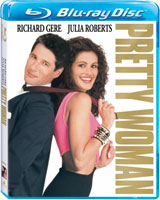 No stranger to home video with its many previous VHS and DVD incarnations, Pretty Woman arrives on Blu-ray to give the film its best presentation to date. The feature is shown in widescreen 1080p high definition (1.85:1 aspect ratio). The main audio track is in uncompressed 5.1 English. Additional tracks are in English 5.1 Surround, and French and Spanish 2.0 Dolby Digital. These same three languages comprise the subtitle options as well.
Director Garry Marshall offers a commentary track that's enthusiastic rambling and not always connected to the film itself. "Live From the Wrap Party" shows home video footage of Julia Roberts drinking from a bottle while Marshall plays the drums and Richard Gere plucks at the piano. Why it's on here and not YouTube, I don't know. Additional features include a tour of the LA locations used in the film, a blooper reel, a promotional featurette from 1990, the film's theatrical trailer and the music video to "Wild Women Do" by Natalie Cole.
Pretty Woman Gallery
Trailer