Aliens in trouble! Angry government officials! Hidden bases in the Nevada desert! Andy Fickman's remake of Race to Witch Mountain is like a breath of new fangled air – minus the air. Boring and unoriginal, this new version might have some fancy visuals and a loud soundtrack but they're just a smokescreen for how boring and lifeless the film is.
Yeah, I know it's a remake, how can it be original? It can to certain extent. I don't think I've ever seen the first Race From Witch Mountain and if I did I don't remember it at all. However this new take brought a lot of E.T. with it, along with almost every other government-chasing-alien production put out there. I'm not adverse to remakes or re-imagining a film but, just like any other movie, they need to be interesting.
Seth (Alexander Ludwig) and Sara (AnnaSophia Robb) are two alien children who've crashed on Earth and had their spaceship stolen by the U.S. government. Fate places them in a taxi with tough guy Jack Bruno (Dwayne "no longer The Rock" Johnson) who reluctantly becomes their accomplice as they try to get the spacecraft back before an evil alien in a poorly designed costume gets to it and threatens the world.
My biggest beef with Race to Witch Mountain is that the film as a whole has very little life to it. Seth and Sara spend the majority of the movie standing around, staring and talking in this boring monotone voice. They show little emotion and are just all-around big-time downers. Johnson is one of the more charismatic folks in Hollywood but he's not given much to work with although he and Carla Gugino did have some chemistry in their front seat bickering.
A lot of the movie's focus in on the chase scenes. Occasionally they're thrilling but most of the action is shown from the inside of the vehicles. The result is that while there's the indication of danger and fast speed, the viewer is left with an inside point of view where you see just as many mouths moving as you do zooming through the desert. I don't know about everyone else, but if the dialogue is already stilted, I'd rather be left watching some snazzy visuals so that my imagination is captured just a little bit. Easily forgettable, Race to Witch Mountain provides the occasional thrill (very occasional) but for the most part it's an extremely dull action film. And for something that's aimed at families, if the parents are having a hard time keeping their attention, my guess is that the kids will be equally bored, if not more so.
Race to Witch Mountain Blu-ray Review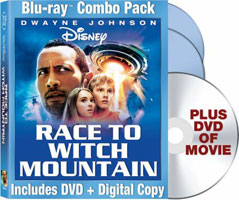 Race to Witch Mountain comes to Blu-ray in a Disney combo pack that includes the Blu-ray disc, a DVD and a Digital Copy. In total, there's three discs but not a ton of content outside of the film itself.
The movie is shown in an excellent widescreen picture (2.40:1 aspect ratio) shown in 1080p high definition. Audio is in English 5.1 DTS-HD along with dubbed 5.1 Dolby Digital tracks in French and Spanish. Subtitles are also available in all three languages.
There's about 40 minutes of bonus features, over half of which come from deleted scenes that come with optional commentary from director Andy Fickman. Fickman returns in "Which Mountain" wherein he reveals the remake's references to the original pair of films. Finally, there's a small collection of outtakes and bloopers.
Race to Witch Mountain Gallery
Trailer