Often in life there's little opportunity to go out and take an adventure, even the smallest ones. Jobs and other commitments keep people in their offices, routines and close to home. Sometimes, though, it's good to go out and do something crazy, even if others might consider it to be mundane. It's all about fun and finding pleasure in the simplest of things. If it gets your heart rate up, it's an adventure.
William Wyler's Roman Holiday is a simple sort of adventure, taking a princess (Audrey Hepburn) away from her royal duties and giving her a day on the town in Rome. Princess Ann is tired of her day-to-day routine and she's never given a chance to get out and experience life. Being royalty is a 24-houor job, carrying with it all sorts of expectations and protocol, none of which involve the word adventure.
One night she skips out and finds herself in the company of a reporter, Joe Bradley (Gregory Peck), who doesn't know that he's stumbled across the largest story of his career. Trying to avoid a public relations disaster, the royal palace covers up the disappearance by saying the princess has come down sick and sending an army of plain-clothed investigators into the streets to find her.
After he discovers Ann's secret, Bradley looks to use the angle to make some extra money and earn his way back to America. But over the course of the day and their adventures around Rome, the unlikely pair find themselves attracted to each other.
Shot on location in Rome, the film is gorgeous. Even in black and white, the cobbled streets and ancient buildings stand out today as some of the world's greatest sites and I'm sure the film worked as a good tourism promo back upon the film's initial release.
Hepburn and Peck are an equally charming couple. They both show an almost childlike glee as they scooter through the streets, shop in a street market and sip beverages in an open-air café. All are fairly simple delights, the kind that can be taken for granted by those who have such events as part of their daily routine. But for outsiders such as Bradley and the princess, they act as a slice of heaven made all the better by the company they share.
Roman Holiday doesn't offer an overly complex plot, but it also doesn't look down on its audience. It mixes the romantic comedy formula of an unlikely couple slowly falling in love with some classic slapstick to create a movie that's tough not to be delighted by. And even in its surface simplicity, the plot doesn't always opt for the predictable and obvious. It's a movie that truly does embrace a joy for life and translates it into something irresistible.
Roman Holiday DVD Review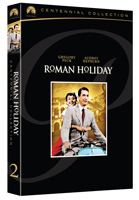 Roman Holiday is the second release in Paramount's Centennial Collection. It's a two-disc affair that presents the film in a sharp full screen format that stays true to its original form. Audio is in Dolby English mono with optional dubbed tracks in Spanish and French. The same three languages make up the DVD's subtitle options.
Audrey Hepburn is a primary focus of the film's special features as she is the primary focus of two featurettes: one for her work in this film and another that is equally a retrospective for Paramount Studios. Additional featurettes explore the locations of Roman Holiday and how writer Dalton Trumbo became a victim of the McCarthy era and was blacklisted from working in Hollywood. Paramount's history is further looked at with separate features on costumes and the decade of the 1950s. Additional extras include a featurette on the restoration of Roman Holiday, three theatrical trailers and a stills gallery.
Roman Holiday Gallery
Trailer