If one were to compare Santa Buddies to a Christmas item, likening it to coal would be a compliment. If Santa were to deliver this movie to all the good boys and girls of the world, there'd be a rebellion and a whole lot of mall Santas would be out of work next year because they still wouldn't have forgiven the jolly fat guy in the red suit. Santa Buddies is the equivalent of a flaming bag of doggie dung on your doorstep: it's impossible to explain what you did to deserve it and you want it gone and forgotten as soon as possible.
Mixing wholesome Christian values with Eastern Buddhist teachings comes this tale of a Christmas season that revolves around Santa Claus and his unexplained sidekick Santa Paws. Santa Buddies preaches a good game of how the acts of generosity and kindness are more important than any gift one could receive, yet when push comes to plot it revolves around whether Christmas will happen because ole' Saint Nick is stuck at the North Pole. But that's been done before on seemingly every other Christmas movie and primetime special. So send in the talking animals because apparently they're the cutest smokescreen to ever grace the screen and distract away from garbage such as this.
Puppy Paws is a canine with privilege. As the heir to the throne of Santa Paws, the sidekick lackey of Santa Claws, Puppy Paws is having some doubts so he heads to to Earth. More specifically, he goes to a small town in Washington State where he can meet up with the gluttonous Butter Ball, a golden retriever puppy who is still feeling guilty about eating the Thanksgiving turkey. Somehow in there, Christmas is threatened because a powerful icicle isn't being recharged because of a lack of Christmas magic. Suffice to say, it's talking puppies to the rescue.
Despite its slightly successful attempts at playing the cute card (come on, they're puppies), Santa Buddies is an embarrassing entry into the Christmas cinematic canon. It had the potential to put an interesting spin on the story by introducing the idea of a canine Claus, but it's presented like everyone is supposed to know all about him already. Yes, Santa Claus is familiar. Christmas being in danger because Mr. Claus is in trouble is familiar too. Ditto for disappearing Christmas magic. But a dog who's second in command. That's new and, gasp, original. So what does the movie do? It skims right over it and resorts to the tired ideas, only with talking animals.
As horrible as the story is, there's a lot of technical discrepancies as well. Close-up, the puppies work. It's a little distracting at times, but nothing horrible. But everything else effects-wise is horrendous. The reindeer are never convincing and when the puppies take flight, the look like those little plastic statues I see at grocery stores asking me to donate change. If they're supposed to look like the buddies, there should at least be an attempt to make the appearance of fur. Finally there's the Northern Lights that hang over Santa's workshop. They should move, at least a little. Unless the movie's trying to tell me that Santa isn't real and the static sky is a clever way of breaking down the wall between film and viewer. Something tells me it's much simpler than that: budget.
The story that does exist in Santa Buddies is played out in the first two acts. This leaves a full third of the movie to waste. I take that back. The whole thing is a waste. The last half-hour is merely a waste without even a plot.
Let's face it. Anything beyond the original Air Bud movie was pushing the premise of talking dogs. The gimmick ran its course long ago. Chances are that Santa Buddies is being watched by young children who are mesmerized by cute talking puppies with lots of fluffy fur. But really, why subject them to such garbage? Get in the holiday spirit and give the gift of good animal movies like Babe or The Incredible Journey instead.
Santa Buddies Blu-ray Review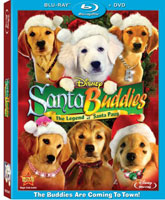 Santa Buddies comes to Blu-ray as a combo pack that includes both the Blu-ray and DVD of the film. Not that there's a bunch of bonus features, but they're all included on both discs. The first extra is a small collection of sing along carols that see the Buddies singing with their cute little faces and a paw bounding along to the words. The other bonus feature of note is a music video for a pop version of "Santa Claus is Coming to Town" by Sam Rushton.
The Blu-ray has the film shown in 1080p High Definition (1.85:1 aspect ratio). It's a nice transfer that brings out the holiday highlights. Audio is in English 5.1 DTS-HD with dubbed French and Spanish tracks in 5.1 Dolby Digital. Subtitles are available in all three languages as well.
Santa Buddies Gallery