As relevant today as it was when it was released in 1962, John Ford's classic Western The Man Who Shot Liberty Valance is the best film about bullying ever made. It's also right up there among my favorite Westerns.
The town of Shinbone is your typical Hollywood frontier town of lawlessness and anarchy. Despite the fact that there's a badge-wearing sheriff who is meant to maintain order, it's crook and bully Liberty Valance (Lee Marvin) who runs things. What Valance says goes. If he walks into the saloon and says he wants someone's steak, he sits down and eats it. Valance and his posse are petty thieves who get their way through fear. Nobody in Shinbone is willing to stand up to him. That is until young lawyer Ransom Stoddard (James Stewart) comes to town.
Stoddard is an idealist who envisions a democratic rule for Shinbone to carry it into statehood versus Valance's tyranny that is holding the town back. Most Westerns show a struggle for order in a town. Liberty Valance looks at the establishment of law. In most in the genre, order is maintained by a sheriff and a loyal sidekick or two. However, here law empowers the masses. They are given a voice to vote with and make change happen. It's a bumpy road as Valance plays the role of the poor loser and tries to re-establish the chaotic environment he thrived in. It's Stoddard's law that celebrates good and honor versus Valance's Western law of greed. It's book law versus violence.
But change can't happen immediately. Stoddard wouldn't stand a chance if he were facing Valance alone. Enter Tom Doniphon (John Wayne), a gruff local rancher who becomes Stoddard's guide through the murky waters of the lawless West. Doniphon has the street smarts, mean streak and skill that nobody, including Valance, can match.
The character of Valance is a prototypical bully. Much like the kid in the schoolyard who shakes down kids two grades his junior for baseball cards and pocket change, Valance rules with fear. Everyone is scared of him so they don't fight back. Stoddard is the new kid who comes along and doesn't want to take it. Despite Valance's best efforts, Stoddard refuses to back down and eventually makes a fateful decision to fight back.
Despite the empowering nature of Liberty Valance, there's definitely a cynical and sombre tone that tints the film. This makes it feel more real and not like a piece of patriotic propaganda. Despite his utopian vision, Stoddard has to venture to the side of grey to make things happen. Valance pushes and pushes until Stoddard finally thinks of picking up a gun and thinks of shoving back without his books and uplifting message of hope.
Also, as politicians come to town for a piece of Shinbone, it all becomes a farce where speeches are filled with words that sound strong but carry little meaning, where cowboy tricks and lavish entertainment become vehicles for winning votes. This isn't Stoddard's vision, but it is reality. Would-be leaders are merely swindlers with selfish goals similar to Valance's, only with less bullying.
The Man Who Shot Liberty Valance DVD Review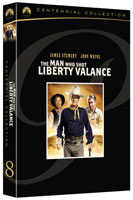 The classic film gets a worthy DVD re-release with Paramount's Centennial Collection. Both presentation and extensive features work together to make this the definitive release of The Man Who Shot Liberty Valance thus far – and worthy of a double dip if you already own it. The movie is shown in stellar enhanced widescreen format with English Dolby Digital 5.1 Surround audio leading the way. There's additional English and Spanish mono tracks as well. Subtitles are offered in English, Spanish and French.
Filmmaker Peter Bogdanovich brings a wonderful historical perspective on the film and its impact in an excellent commentary track, which also includes old recordings from John Ford and James Stewart. Additional commentary is available on select scenes that are introduced by Dan Ford and include archival recordings from Ford, Stewart and Lee Marvin.
The meat of the release's second disc is the seven part featurette "The Size of Legends, the Soul of Myth," which looks at not only the historical context of The Man Who Shot Liberty Valance, but the Western genre as well. Additional features include the original theatrical trailer and photo galleries of production stills, publicity materials, lobby cards and of John Ford.
The Man Who Shot Liberty Valance Gallery
Trailer