Cinema has the power to leave you feeling as though you'd just witnessed something magical. No matter how implausible the story might be, like a good book, movies can draw you into a world unlike the ones we know and experience and put us in the middle of one that can unfortunately only exist otherwise in the imagination. Stemming from the mind of Tim Burton and directed by Henry Selick, The Nightmare Before Christmas is one such marvel.
The first full-length feature done in stop-motion animation, the film tells the story of Jack Skellington, the scare-master of Halloween Town. But his life has been a cycle of the same old things over and over again. Bored one day, Jack finds himself in Christmas Town, an entirely new place with new people and a whole different attitude from the macabre found in his home town. Curious and refreshed, Jack brings the idea of Christmas home and takes over the jovial holiday. But with a more frightening outlook on life, Jack and Halloween Town's horrific residents threaten to extract the joy of Christmas for everyone.
At its disturbing heart, The Nightmare Before Christmas is a sly satire of the holiday season. Jack is bored with Halloween because it's all about stuff – menial scares and frights constructed with the same old tricks and beast. There's nothing to it below the surface. It's easy to feel the same about Christmas now with all the hustle, bustle and cheesy traditions that all amount to 'stuff' without much meaning. So when Jack and Halloween Town's denizens try to take over Christmas, they only know to look at the symbols to recreate it rather than the spirit. As a result, they make Christmas as they might experience it – with gruesome decorations and gifts with rotting flesh, big teeth and monstrous aggression. There's many references to other Christmas fables and fairy tales but they're acknowledged as such that they're sarcastic in tone. For example, with fog threatening Jack's sleigh ride on Christmas Eve, he discovers his dog Zero has a shiny nose and Christmas is saved. This is a direct jab at the legend of Rudolph as it draws attention to the obviousness of the solution.
At first glance, The Nightmare Before Christmas is all about the fantastic look of the film. Not only is the stop-motion done with clay and other types of crafts, the design comes from the bizarre mind of Tim Burton. The result is something in the spirit of Grimm fairy tales and classic horror films from the Universal era, done in a way that while dark, is not too scary for young children. Tremendous care is paid to small details and textures. Individual hairs can be seen on characters' heads, small lights are all lit separately, even the ground has tiny features. Combined, all of these create a flavor and style that has the feel of something distinctly Burton-esque. So much so, that I never get tired of watching it. Every time I see new things, keeping it fresh.
Christmas is a magical time of year – if you can manage to ignore much of the busyness and hubbub that can drown out the meaning. Although not festive in a traditional snow-and-stockings sort of way, The Nightmare Before Christmas is a magical celebration of the imagination.
The Nightmare Before Christmas DVD Review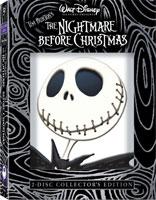 Although The Nightmare Before Christmas had an excellent DVD release several years ago, the new two-disc Collector's Edition is even better. Technically, I guess you could call it a three-disc set as it includes a third disc with a digital copy for those wanting to import the film onto their iPod or digital device.
The film has been digitally remastered and looks excellent. It comes in its original widescreen format (1.66:1 aspect ratio) with Dolby Digital 5.1 Surround audio. Additional language tracks are offered in French and Spanish with subtitles in English, French and Spanish.
Producer Tim Burton, director Henry Selick and composer Danny Elfman provide an all-new commentary. Unfortunately they appear to be pieced together from separate commentaries but it's still a very informative take given all of their different perspectives and areas of expertise.
For those who can't make it to a Disney theme park during the holidays, there's a ride through of the Nightmare Before Christmas version of the classic attraction the Haunted Mansion. Optional trivia subtitles are also offered as well as a look at how the make over of the ride came to be.
Legendary horror actor Christopher Lee reads Tim Burton's original poem that went on to become the film that exists today. His words are accompanied by production-style drawings.
The production of the film is covered in one extensive making of featurette that is broken down into five chapters covering everything from the film's conceptual origins to the technology used in making it to the classic music.
"The Worlds of Tim Burton's The Nightmare Before Christmas" provides an extensive look at the characters and creations used in the film. There's tons of concept art and screen tests that just start to show the artistry and imagination that went into the production.
Like the original DVD release, a couple of Burton's early films are again included: Vincent and Frankenweenie, which is accompanied by an all-new introduction from Burton. This DVD set also includes deleted scenes, storyboard-to-film comparisons, trailers and posters.
Although I'm not a fan of double-dipping, the remastered transfer combined with the reasonable selling price justifies it. Although it wasn't a breakout hit upon its original release, The Nightmare Before Christmas has transcended its cult film status as demonstrated by this excellent DVD.
The Nightmare Before Christmas Gallery
Trailer