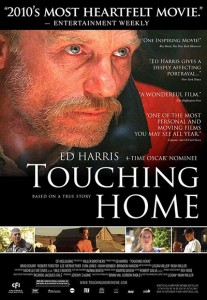 The baseball movie landscape is littered with characters trying to make it to the majors. They seem to either work or end up be sappier than Oprah putting a Nicholas Sparks book in the club. Logan and Noah Miller's Touching Home straddles the fence. Stronger when it focuses on the small-town life than when it steps on the ball diamond, the decent cast elevates it to a tolerable level.
The identical twins have their hands in a lot of places with the film. Not only do they write and direct, but they're also the stars. They play, appropriately enough, brothers Clint and Lane Winston looking to make it as professional ballplayers. After getting that close again and again, they return home to work at the local quarry.
Wash, rinse, repeat.
Baseball tryouts are merely a backdrop to get them at home where hopes turn into a depressing reality. There's nothing like going from the sunshine and sounds of the park to the drudgery of moving rocks from one pile to another. One's a dream, the other's a nightmare.
And you haven't even met the family yet.
Their father, Charlie Winston (Ed Harris), is the town fool. Charlie's the opposite of his sons. Clint and Lane are local celebrities. Charlie is the town fool. A drunk, he sleeps in the back of his truck and gambles away whatever he scrounges together. Naturally, there's a lot of natural tension there as the boys dance around the fact that their father is one bender away from being a complete jerk.
Touching Home is best when it's digging through the day-to-day realities of the Winston brothers. While they themselves aren't wholly interesting, the characters surrounding them are. It should be little surprise that the best scenes are those where the supporting cast are the focal points. For the most part, they feel more natural. Plus, the supporting characters don't get corny montage scenes like Clint and Lane do.
It's almost unfair to compare Ed Harris to the rest of the cast. Few are horrible, but Harris stands above them all. He brings a lot to scenes that could have easily gone the other way.
Touching Home is one of those movies that's predictable yet still manages to work in several ways. It lives in the small-town vibe much of the film centers around. It's not flashy, but it gets the job done in its own quiet way.
Touching Home Trailer
Touching Home Gallery