Dang, you, Pixar and friends. There you go almost making me cry in front of my kids. Over toys. Are you trying to go and make me out for some sort of a wussy chump? Trying to make me feel like less of a man (although some might argue that being open to crying in front of one's kids over a cartoon featuring toys might make one more manly). Oh, wait. That's right. You folks know how to write a touching story and develop characters that might look like toys, but their reach is human. With Toy Story 3 you have once again reminded me that there is a way to create a film that not only appeals to just about everyone, but also prove that three-quels need not suck.
Woody (Tom Hanks), Buzz (Tim Allen) and most of the Toy Story gang are back but they're at a turning point in their lives. Andy's grown up and heading off to college. Before he moves, he has to decide what to do with his beloved, albeit neglected toys. Those that remain live by the code of being there for Andy when he needs them, even if such occasions are as frequent as Cobra Commander joining a peace march.
Years of neglect and a trip to the curb lead the toys to abandon Andy and head to Sunnyside Daycare. Despite Woody's pleading that the whole "heading for the trash dump was all just a misunderstanding," the remaining toys look for a fresh start and lots of playtime. What they discover is Toy Hell where kids bang, bash and slobber their way through the day and a group of power-hungry toy veterans making everyone prisoners at night.
Toy Story broke new ground in computer-generated animation. Toy Story 2 proved that despite the gorgeous look of the films, the franchise's success was rooted in its characters and the writing team's ability to connect nostalgia with a very human story. Toy Story 3 is a capstone on, perhaps, one of the greatest family franchises of all-time. Here's a film about plastic action figures and stuffed animals, yet throughout the story I was glued with suspense pondering whether or not these toys would make it. In the closing scenes I was on the verge of tears. Tears. Because of toys.
But it's not about toys. It's the fact that all three Toy Story films connect at a much deeper level. I might not have had Buzz and Woody as a kid, but I did get to take He-Man and my Transformers and Lego men on countless missions to save the world. And on those missions and the hours and hours of playtime I shared with them, I developed a bond with those pieces of plastic and cheap metal. Nostalgia is a surface-level reminder of the past. With Toy Story 3, it's more. It's a deep connection.
I remember thinking after Toy Story 2 that I hoped that was the end of the series. I even doubted whether or not the Pixar gang could justify making it a trilogy. Toy Story 3 justifies it and goes beyond.
Toy Story 3 Blu-ray Review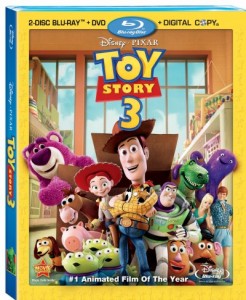 Toy Story 3 comes to Blu-ray with a four-disc combo pack that also includes a DVD of the film and a Digital Copy. The film is presented in a pristine 1080p picture. Audio is inDTS-HD 7.1 Master Audio. Besides the feature, the first Blu-ray disc includes the short Day & Night, which preceded Toy Story 3 in theatres, and "Buzz Lightyear Mission Logs: The Science of Adventure," which looks at the history of space travel.
The second disc has tons of feautrettes that look at various aspects of the making of the film, particularly the story elements and technical aspects. Additional feautres highlight the Pixar company and brand. A Cine-explore feature includes in-depth comments from director Lee Unkrich and producer Darla Anderson. The disc also includes promotional material a-plenty and a BD-Live trivia game.
Toy Story 3 Gallery
Trailer