The Transformers were a relic from my past. I have fond memories fawning over the catalog pages at Christmas time imagining the battle for Cybertronian supremacy I was going to wage behind closed doors come Christmas morning. I remember going straight home after school to watch Soundwave release Laserbeak and Rampage on the Autobots, only to have them come storming back with their metallic tails between their robot legs – except when it was an epic two-part story.
With Transformers being so ingrained in my childhood memories, it's only natural that I'm a little hesitant when it comes to updates and new visions. Nostalgia is a powerful thing. It's probably a fear thing that maybe if something I grew up with is still around for my kids to consume, I want it to be the way it was. Subconsciously I want my memories to be past on to them so any change puts that passing on of memories at risk. While Transformers has seen a few different incarnations over the years, I have come to respect the latest cartoon effort.
Two seasons in, Transformers Animated demonstrates that you can modify something for current audiences while respecting the original source material. While it does feel juvenile at times, it is a cartoon after all. In all actuality, it demonstrates more complex storytelling techniques than the cartoon I grew up with in the 1980s.
Set in a near-future Detroit, Transformers Animated traces the Earth battle between the good-guy Autobots and the bad-guy Decepticons, robots from the planet Cybertron who have brought their war across space. In a move that I don't see all that often in cartoons, the season two storyline has some epic scope. Over the course of the 13-episode season a major storyline plays out where the both sides seek out pieces of the AllSpark, the thing that brings life to all Transformers and was broken into pieces and spread throughout Detroit.
With that as major storyline, individual episodes provide their own self-contained stories, some of which introduce interesting and layered storytelling techniques when you consider the primary audience is kids. For example, in "Autoboot Camp" flashbacks are used to show not only Bumblebee's history but also connect it with current events and set up future storylines. While the use of flashbacks might not seem like a huge leap, it's used very well here adding history and looking ahead to where things could go.
Transformers Animated has a lot more slapstick than I remember the old Generation One cartoons having. It's also faster, more action packed and in your face. It's not a slap in the face to old-time fans but rather a sign of the world more than 20 years after the original run.
The second season of Transformers Animated provides lots of fun and action. What I enjoyed most is the fact that it lets me revisit my youth, offers a solid storyline in its own right and doesn't take today's kids ass being dumb. It works on several levels and I just hope it's able to stick it out for a couple more years so I can share it with my little ones who are still a little too little.
Transformers Animated: Season Two DVD Review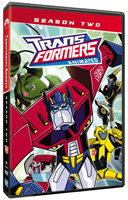 Transformers Animated: Season Two collects all 13 episodes over two discs. Episodes are shown in a colourful full screen format with Dolby stereo audio in both English and Spanish. Two episodes also include commentary tracks with various crew members. There's also a pair of funny animated shorts and a photo gallery that provides brief bios for a handful of Transformers.