Simplicity and complexity harmonize together in cinematic zen in the instant-classic WALL-E, a film that uses technical prowess to tell a straight-forward yet far-reaching story. While it's easy to marvel at the film's computerized beauty, what is really bound to suck you in is the heart-warming story of love between two robots.
Several hundred years in the future, Earth is a desolate wasteland of trash. City skyscrapers have been replaced by sky-reaching cubes of trash. It's been centuries since the planet was habitable. Humanity still exists, but they're somewhere in space roaming about with no particular destination in mind. Earth's clean-up has been left to a resourceful robot named WALL-E. He's all alone save for a cockroach and an ancient VHS copy of Hello Dolly.
WALL-E's life is shaken up with the arrival of explorer robot EVE, whose mission is to see if Earth is ready to be settled once again. As you might expect, the pair meet up and launch the plot into its primary conflict. But while it's important that there is a plot, it's really the character-building and simplicity that give the film so much of its charm.
Much of the first two acts of the film play out with little discernable dialogue outside of old messages, video clips and robo-blips. It's a testament to the film then that even without a lot of talking, the story is always moving forward with a clear direction in mind. Without words or even as much as a face, the character of WALL-E is able to communicate through his actions and reactions. It reminded me a lot of E.T. It's a simple beauty that is a joy to watch.
Like all Pixar films, WALL-E strives to push the technical boundaries of computer animation. This time out the focus is on the smallest of details: dirt, grime, dust storms, fire extinguisher foam floating in space. The line between live-action and animation is further blurred with the inclusion of Hello Dolly and speech snippets from the always funny Fred Willard. Foreground or background, the details are everywhere with vivid clarity. But in keeping with the Pixar tradition, they compliment the story. Sure, WALL-E's a beautiful film to watch, but it's in the characters that the film comes alive.
WALL-E is at its best when it's at its most simple. The scenes with just WALL-E, EVE and/or the cockroach play out so easily. When more characters – both human and robot – get involved, it often loses its momentum. The plot gets messy and the characters get lost in the shuffle.
WALL–E tells its story in a straight-forward manner, offering beauty and a handful of robots that you can't help but feel for. More than that, it's got a message that isn't hung over your head and made to feel guilty. Instead it's simply a warning of what our planet might become should we continue on a path of mass consumption without regard for the rest of the world. The message is there and it's clear but in the same regard it's part of the story. The risk of a robotic Al Gore jumping out with a PowerPoint is never there, nor do the themes overtake the story. It simply adds to the layers of the film and provides context for the plot.
Save for The Incredibles and A Bug's Life, I always seem to think the latest Pixar effort is their best yet. The bar has always been set high with their films. And that's a good thing. When you're successful, it'd be easy to rest on brand power and churn out a couple of money-makers and being happy with a good movie rather than a great one. It's going to be tough to upend WALL-E, though, in my books. At its best, it's got a rare trinity of unforgettable characters, beauty and story all meshed together in something that's entertaining, fresh and meaningful.
WALL-E DVD Review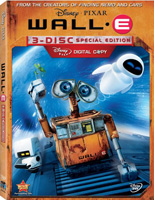 The three-disc Special Edition release of WALL-E is loaded with extras, however it misses on one very important, and often overlooked aspect.
Would it be too much to gush over the fact that WALL-E offers one of the nicest looking DVDs I have ever seen? Well, it is. The widescreen picture is amazingly clear and brings out the richness of the film. The Dolby Digital 5.1 Surround EX audio brings out every blip and bleep of the various machines and all their intricate parts. There's also a 2.0 Dolby Surround track. The only available subtitles are in English.
The first disc includes two animated shorts. The first is Presto, the memorable tale of a magician and his rabbit that preceded WALL-E during its theatrical run. The second focuses on worker-bot Burn-E and his plight to install a light. It recycles a fair amount of footage from the feature, which is somewhat distracting and takes away from the focus. Other disc one extras include two deleted scenes with optional commentary from director Andrew Stanton, a 19-minute featurette on the film's sound design, a promotional bit on "WALL-E's Tour of the Universe" and an insightful commentary from Stanton. I did find an Easter egg that was a cute look at geekdom as told by the crew.
The second disc includes more features that shed light not only on the film, but the world surrounding it. The highlight is a feature-length documentary that traces Pixar's history. A six-part series of featurettes looks at the various aspect of the making of the film. A series of BNL shorts offers a little fictional propaganda. And any propaganda is good propaganda. WALL-E interacts with various pieces of pop culture in "WALL-E's Treasures and Trinkets." "Bot Files" offers quick looks at the various robots seen in the film. "Lots of Bots" is an interesting take on the read-along book. It enables viewers/readers to interact with various parts of the robot story. Finally, there's two more deleted scenes with optional commentary.
The third disc continues the trend of "value added" DVDs by offering a digital copy to view on computers and other pieces of personal electronics. While the data quality of this release is excellent, I've got issues with the package. Although I applaud Disney for opting for something a little more eco-friendly, the cardboard packaging offered here is likely to cause many families grief as it is not sturdy enough to hold up to the handling of a young child. The package offers little in the way of locking discs in to keep them from scratching as well. It may look okay from the outside, but something tells me that over time many discs are going to get beaten up and even destroyed because of it.
WALL-E Gallery
Trailer