With the world making allies and mustering goodwill heading into the second World War, public relations and propaganda were keys to building public support. Everyone was on edge as countries were invaded and the first bombs were dropped. Europe was a backdrop for uncertainty. With the European market frozen, Hollywood was hemorrhaging and losing money fast. Something had to change. For Walt Disney and a team of his closest associates, this came with a tour of South America. Theodore Thomas' documentary Walt & El Grupo charts this tour, mapping out the importance it had on the business side of Disney and how it influenced the company's animated style.
With the world at war and labor unrest among the studio's animators, Disney was on the very of collapse in 1940. With that came much stress and grief for the face of the company, Walt Disney. So when the United States government approached him in 1941 to head down to South America to tour and become cultural ambassadors, Disney had a unique opportunity to work and relax at the same time.With the offer on the table, the savvy owner quickly gathered a team of his closest associates, animators and musicians and jumped on a plane ready to make a picture or two. The government picked up the tab and took on all the financial risks involved. It was a can't-lose proposition. The result of the trip came in the form of a pair of features: Saludos Amigos and The Three Caballeros.
Walt & El Grupo is an intimate, albeit uneventful, story filled with flashy graphics but not a lot of substance. It spends much more time coming up with ways to talk about the various locales Disney enjoyed than it does looking at the impact of the trip, both on the company and on animation as a whole. It does go deeper on occasion, but not nearly enough to get the documentary above the level of a famous person's travelogue. Perhaps if the length was cut in half and it was presented as a short, Walt & El Grupo would have been a leaner, better film. But as it stands it's a lot of talking but not a justifiable amount of substance.
Walt & El Grupo DVD Review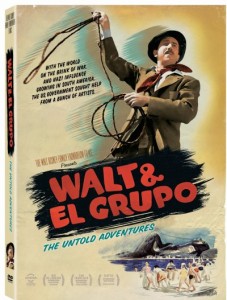 Walt & El Grupo arrives on DVD as a clean film with a stellar mix of bonus features. The documentary is shown in widescreen format with 5.1 Dolby Digital audio in both English and dubbed Spanish. There's also subtitles in these languages as well. The bonus features are led by the original version of Saludos Amigos, the 1943 film that was a direct result of the trip to South America. Other features include a commentary track with director Theodore Thomas and historian J.B. Kaufman, a look at the editing technique that moved in and out of photographs to create a 3D effect, three cut scenes from the director's cut and trailers from Saludos Amigos and The Three Caballeros.
Walt & El Grupo Gallery
Trailer