Thinking back, the mere thought of people going to the Coliseum to cheer grown men on as they slaughtered one another is sickening. For whatever reason, the folks of the time saw it as entertainment. Something tells me they also knew that people killing people in the name of a good time was naturally wrong. But entertainment is a commodity that is often consumed without a lot of thought. While there's no killing or internal struggle with watching Mark Steven Johnson's When in Rome, I do liken it to the gladiators in that I understand its awfulness. At the same time, I was laughing throughout.
Beth (Kristen Bell) is a career-minded young curator at the Guggenheim left in charge of a major exhibit. She heads over to Rome to see her little sister get married, offering up an excuse to ponder why she isn't so lucky. Fate steps in and throws the hunky Nick (Josh Duhamel) up for sacrifice. But there'd be no movie if they hit it off and stayed that way. As Beth continues to lament her situation she grabs some coins out of a magical Roman fountain, which instantly causes the men who threw the coins in to get shot in the butt by cupid and fall in love. Enter the situations I should be gagging at but still find myself amused.
At times When in Rome is undeniably awkward. Beth's suitors are cartoon characters that are more about clichés than they are about their gimmick than they are about being people. That said, it's done deliberately and in a way that it makes the real potential romance that much stronger. Or predictable, as my cynical side ponders at the same time. The jokes are flying so quickly that some stick, while others don't. But when you're dealing with humor, it's the warm fuzzy feeling that seems to stick better than the gags that pummel into the black hole of jokes fallen flat guarded by Carrot Top's imaginary love child.
As always, it seems, Bell is the epitome of cute. She carries a classic presence and charm that is tough not to like. Yet, at the same time, she does so with a little spunk and sass. Bell might not have reached the same iconic stature of Audrey Hepburn, but there's something to it. Perhaps with time and more adult-oriented roles she will gain more recognition. A big part of what works for me is that she doesn't present herself too seriously. When in Rome is filled with self-deprecating humor that gives many of the low-brow gags a lot more personality than they might otherwise have.
Should one apologize to laughing at something they know is bad? Certainly not. While it might be painful, at times, it's not like a leather-clad Kristen Bell is wielding a sword and chopping off Josh Duhamel's privates (as in, actually taking the sword and actually doing it) and I'm cheering that on. Come to think of it, there's probably some folks who would get excited to see Bell clad in leather and some more who'd like to see bad things happen to Duhamel, but in When in Rome they're fine as they are.
When in Rome Blu-ray Review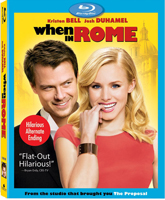 The Blu-ray release of When in Rome offers nothing spectacular other than a solid presentation of the film. The picture is in 1080p high definition and looks great with vibrant colors. Audio options include English 5.1 DTS-HD Master Audio, Spanish 5.1 Digital Surround and French 5.1 Digital Surround. There's also subtitles for all three languages.
While somewhat plentiful in number, the collection of bonus features are insignificant. Exclusive to the Blu-ray are a horrendously slow and unfunny alternate opening sequence and closing sequence, a 12-minute behind the scenes featurette that essentially has the cast talk about how funny and great each other is and a short bit that gives a little more screen time to Beth's eccentric suitors. Additional extras include a handful of deleted scenes, a blooper reel and a pair of music videos.
When in Rome Gallery
Trailer