Few films contain such beauty that they could have their characters chanting, "Blah, blah, blah," for the entire running time and still hold my interest. Okay, that might be stretching it a little bit but not much in the case of Zhang Yimou's jaw-dropping Hero, a complex story of love, war and everything epic.
Jet Li stars as an assassin who is by his own words nameless. He is ushered into the emperor's temple where he receives a most honorable greeting. As he makes the long walk up to the throne room we see that he is a one-man parade being watched by literally thousands of Chinese soldiers. Word has passed through the land that the assassin has single-handedly stopped the last obstacle in the emperor's quest to unite China's kingdoms for him to rule.
The ever-paranoid emperor invites the warrior into his throne room where the assassin is granted an unheard of face to face meeting. With his enemies gone, the emperor is hoping to feel a little trust again. The warrior tells the emperor his story of how he came to earn the trust and later destroy his enemies, adding layers and opening up questions of its truthfulness with every stoppage the emperor makes to clarify some details.
While the assassin speaks a good game and has all the details, there are enough hints along the way that point to it being more akin to an elaborate fish tale than the truth. The implications, of course, are huge and the fallout is even bigger once the end game of the real-life chess game is revealed.
Zhang weaves a complex and interesting story but the ultimate strength of Hero is its poetic beauty. Every set piece, every action scene, every frame of film is pieced together with such detail and care that you could take any individual frame, blow it up as a photograph, hang it on the wall and proudly declare it as art. Whether it's a tight close-up or a sweeping long shot, not a corner of the screen is wasted. Zhang and cinematographer Christopher Doyle don't even hide the poetic flavor of Hero, using color and gravity-defying moves to take the audience's breath away. Like Crouching Tiger, Hidden Dragon, there is lots of action that feels more like an intricate dance than it does a battle.
Much of the action showcases Li's ability to move quickly and efficiently, pulling off feats that would make any stage magician jealous. He fends off literally thousands of arrows that descend down upon him like locusts, splits an arrow in half with his sword while picking it out of hundreds of other falling sticks and flies across water in his various battles. As outlandish as these tricks may sound, Zhang does so on purpose. He's telling the story of a legend who is telling his own story. There's little to trust, which provides the film with a  perfect excuse to exercise such beauty whether it's realistic or not.
Since its release, Hero is a film I've seen numerous times now. And while I'm not a huge fan of the story, I overlook it every time for the sheer scope of the film's visuals, which include several scenes I doubt I'll ever forget.
Hero Blu-ray Review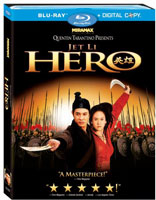 The beauty of Hero continues on this gorgeous Blu-ray release. The film is showcased with a magnificent widescreen 1080p high definition transfer (2.35:1 aspect ratio). And when I say gorgeous, I mean gorgeous. It's a little disappointing the original Chinese audio track is only in 5.1 Dolby Digital (alongside French and Spanish tracks). The dubbed English track is in 5.1 DTS-HD. The special features are led by a 24-minute making-of featurette that is extremely promotional in tone. "Close-Up of a Fight Scene" runs nine minutes and shows the anatomy of the combat scenes. It also provides a little bit of history on the film's stars, adding another layer to the film's intrigue. Finally, there's a storyboard-to-film comparison. The Hero Blu-ray also comes with a Digital Copy.
Hero Gallery
Trailer