Style can be slick. Style can make almost anything look good. It can be a great distraction. But when there's no substance behind it, style can end up being hollow and unrewarding. So goes Guy Ritchie's RocknRolla. Other than a couple of inspired spots, it's  style overload with little in the way of genuine substance. So much is twisting and turning that you might think for a bit that something's going on. But like many of the characters in the film, it's all about the set-up and not the actual payoff.
The times are changing in London. While the real estate game used to be a sure thing for local entrepreneurs, particularly with the right politicians in their pocket, foreign "investors" are starting to pinch in on the game. This is the launching point for RocknRolla, as a couple of small-time but eager hoods (played by Gerard Butler and Idris Elba) look to scam their way up the underworld food chain. Caught in the middle is the old guard Lenny Cole (Tom Wilkinson), who is delusional about his current spot in the game and a rising Russian star new to the neighborhood (Karel Rhoden). Toss in a presumed-dead junkie rock star (Toby Kebbell) and a slippery accountant (Thandie Newton) and you're only starting to get to the bottom of the ensemble of players.
Ritchie's made a name for himself (outside of a paparazzi spotlight, at least, being the former husband of a big-time pop star) making slick action movies like Snatch and Lock, Stock and Two Smoking Barrels.  When those were made, he was new on the scene and both felt a little different. So you'd think after a decade in the business that maybe his signature approach to storytelling might have changed or grown up a little. Instead it's still a lot of fast edits, tattooed misfit gangsters and wannabe gangsters spewing out hip dialogue.
But rather than taking his distinct techniques a little further, RocknRolla is a step back. The biggest issue with the film is that's there's no real emotional connection. The plot is driven largely by a chance connection, which allows for all of the crisscrossing stories of theft and betrayal to intersect. The pace is so frenetic that it's often hard to see what story is the central part of the film. I'm all for multi-storied plots, but there should be something central that drives everything. One would think it'd be the large sum of cash that is involved in a heist but rather than make a big deal of it, the powers that be simply put together another package. What this does is undermine the importance of the money and, in turn, what the film revolves around. By throwing together a new package of money, it makes that group of gangsters look weak. And how the money is used to pay off another group so easily makes the other gangsters look weak. So what you're left with is a group of buffoons with several stories circling them but there's nobody to get behind.
That being said, Ritchie is good at conveying his style, even if there's not a lot of meaning behind it. One particularly good scene plays off the Cold War Hollywood caricature of the indestructible Russian. Here's it's a hilarious farce of a chase scene that includes some gangsters who might as well be direct descendents of Rasputin.
But other than that, RocknRolla is a loud and convoluted distraction. It's not bad for what it is but sometimes you just wish that there's a little more substance behind a clever and handsome heist.
RocknRolla Blu-ray Review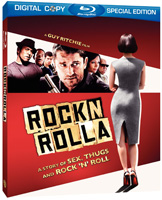 Guy Ritchie fans are likely to be the ones most impressed by the RocknRolla Blu-ray release. The director and star Mark Strong are along for the ride with a surprisingly reserved commentary track that focuses largely on the experience of watching and digesting the film rather than patting one another on the back at every turn. "Guy's Town" takes on London from Ritchie's point of view. It's largely a location featurette told from a much more interesting perspective. "Blokes, Birds and Backhanders: Inside RocknRolla" is a 15-minute look at the characters and tone that makes up the background of the movie. Both of these featurettes are presented in high definition. There's also a deleted scene that's shown in standard definition.
The film itself is shown in an immaculate widescreen 1080p transfer (2.4:1 aspect ratio). Audio is in English Dolby TrueHD 5.1 with supplementary tracks in English, French, Spanish and Portuguese 5.1 Dolby Digital. All four of these languages and Dutch are represented with subtitles as well.
Finally, RocknRolla also includes a digital copy that enables you to download a copy of the film onto your computer or portable video player.
RocknRolla Gallery
Trailer