Chances are, even if you can't recall Robert and Richard Sherman by name, you can probably sing along with a bunch of their songs. From Supercalifragilisticexpialidocious and the rest of the Mary Poppins soundtrack to Winnie the Pooh to the ear worm known as It's a Small World, the Sherman brothers had a knack for writing catchy tunes that could instantly be sung along to. But like so many success stories, the Sherman brothers carried a lot of conflict that threatened to tear them apart at several points in their prolific careers. Their sons, Jeffrey and Gregory Sherman team up to tell the story of their fathers in The Boys: The Sherman Brothers' Story, a fascinating behind-the-scenes documentary that charts not only a story of tremendous success but sibling rivalry as well.
Perhaps the most prolific song writers in the history of film, Robert and Richard Sherman began writing music together in the early 1950s, with their first Disney work appearing a decade later. From there, the rest is history, going on to win endless awards, commercial success and a legacy that will continue on long after they're gone.
With the attention that immense success garners, hid the fact that Richard and Robert were opposites as brothers. Richard was more of a free spirit, enjoying life at every turn. Robert, on the other hand, was more of the structured-discipline, serious type. The combination made their work fun and memorable but their personal lives didn't cross paths as much as one would expect from siblings.
The Boys is a very polite tribute by two sons toward their fathers. While it is open about the rift between Richard and Robert, the documentary is more of a tribute to their work and impact in the industry. Through interviews with the brothers, family, friends and collaborators, as well as plenty of archival footage, The Boys puts the spotlight on a pair who are often overlooked when you hold them up against the stars that they've written music for.
The Boys: The Sherman Brothers' Story DVD Review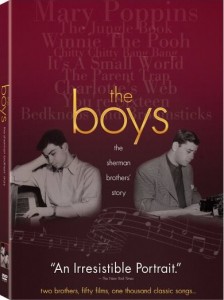 The Boys: The Sherman Brothers' Story gets a great DVD treatment that not only looks and sounds great, but also has a good mix of bonus features. The film is shown in an enhanced widescreen picture (1.78:1 aspect ratio) with 5.1 Dolby Digital English audio. A dubbed Spanish track is also available in 2.0 Dolby Digital.
A series of short featurettes further flesh out the story of the Sherman brothers, their body of work and their impact on the industry. Of the nine total pieces, my favorite is "The Sherman Brothers Jukebox," which takes brief snippets of individual songs and how they came to be.
The Boys: The Sherman Brothers' Story Gallery
Trailer