I've long been under the belief that films set in the past are made to speak to the times in which they are made. Period movies give distance to the heart of the film's story, providing an opportunity to look within in a way that's safer. To that end, The Duchess is a story of celebrity and the scandal and gossip that comes with it. It's also a film in the vein of Sex and the City filled with frank talk of sex, fashion and life. Add to that, it traces the complexity of relationships in their many forms. Despite the many faces of The Duchess, at its simplest, it's a gorgeous film with beautiful period costumes and intricate set designs. However, something tells me that's not the level director Saul Dibb wanted to achieve greatest on.
Keira Knightley stars as Georgiana Spencer, the Duchess of Devonshire. Married young to the much older Duke of Devonshire (Ralph Fiennes), she becomes the means to a male heir. In her husband's eyes, Georgiana is simply a way to produce the baby boy who will one day take over for him. It's not about love, it's not about connection, it's all about making babies. Not surprisingly, there's some tension.
Always a girl who enjoyed life, Georgiana soon becomes restless in her marriage, frustrated by her lack of freedom while her husband is able to do whatever he likes. The Duchess begins to step out. She becomes a celebrated star in England noted for her forward-thinking fashion sense and she was frequently the life of whatever parties and balls she attended. Although she was genuine royalty, she was also the era's equivalent of celebrity royalty, talked about wherever she went, whatever she wore and whomever she was with. This presents increasing complexities when Georgiana begins to fight back against her marital repression.
Theme-wise, a lot is going on in The Duchess. It's talking about many things all at once and while it works on a strictly narrative level, it fails to go as deep as it might. It felt like Dibb was taking on too many angles rather than simply focusing on one face of Georgiana. The celebrity angle seems to be the most timely. In the film, Georgiana is very much like Princess Diana in that her every move was followed and scrutinized in the public eye. Both were also looked to for the pulse of fashion. While Dibb brings up the notion of the Duchess' celebrity, it is not fully explored. Rather the movie simply states the status existed but never went into much of the implications stemming from this.
There's also the "girl power" side of the movie where Georgiana's nurturing is pitted against the Duke's sense of duty. He is a very self-centered man who thinks little of anything outside of his dogs and his legacy. The Duchess rebels against her sole role to bring him a male heir by making a name for herself in social circles and standing up to him when the doors are closed.
Like a lot of costume dramas, The Duchess is a lavish feast for the eyes. It takes some modern turns to make itself relevant but ultimately it gets lost in a muddle of too many things vying for thematic attention. With this all become under-served and feel less important than the star power and fashion that sell it.
The Duchess Blu-ray Review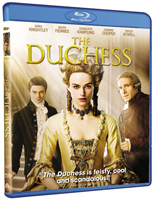 The Blu-ray release for The Duchess does not disappoint. Although it's always important for a film to look its best, it's doubly important for a film that relies on exquisite details and visuals. The film lives up to that necessity with a marvellous widescreen 1080p high definition transfer. Audio comes in English 5.1 Dolby TrueHD and dubbed 5.1 Dolby Digital Spanish and French. Subtitles are offered in English, French, Spanish and Portuguese. There's a handful of special features, which are led off by the six-part "How Far She Went…Making The Duchess."Broken down neatly into small morsels, the featurette goes a lot into the history and artistic side of the film. "Georgina in Her Own Words" is excellent from a historical context as it shows some of the focal characters original letters, which are then analyzed by a pair of historians. "Costume Diary" offers a brief look at the clothing design. All three featurettes are done in high definition. Finally, there's two theatrical trailers.
The Duchess Gallery
Trailer