Jackie Chan is the master of fake kicks and punches. At least I hope they're fake given the sheer amount of dust he draws from his on-screen adversaries whenever he lands one. Although an international star already, Chan charmed Hollywood with the 1996 release of Rumble in the Bronx and opened the floodgates for North American releases of some of his earlier movies. One of the most notable of these releases is The Legend of Drunken Master, a film with just enough story to be interesting and with lots of personality to stand out.
Chan stars as Wong Fei Hung, a Chinese anti-hero of who unleashes an atypical form of Martial Arts to create some havoc amongst smugglers looking to cart out some treasures from his motherland and into the valuable world of collectors and Imperial aristocracy. It's a thin plot of mix ups and misunderstandings but it offers an inroad that's interesting and driven by conspiracy. Like most every character Chan's played in his extensive career, Wong is an instantly likable fellow. Chan makes him easy to root for, which makes the film easier to enjoy.
Chan also offers a nice balance between action and comedy. While The Legend of Drunken Master is light fare overall, it doesn't come across as a cartoon or meaningless farce. Enough time is invested in the characters that you understand where they're coming from and the journey they take has enough at stake. Who am I kidding? The action scenes are also amazing.
Cinema has no shortage of Martial Arts legends or flashy films with intense action scenes. Although I haven't seen a ton of kung-fu movies and I don't consider or pretend to be an expert in the genre, I do believe that The Legend of Drunken Master should be a film used as an example for the genre. In many of the kung-fu movies I have seen, I get tired of the endless fighting. The big reason for this is one fight simply blends into the next. The opponent, set and props might all change but the moves and what's at stake remain quite static. After a couple of similar battles I get bored. But in The Legend of Drunken Master, the action is always escalating. The intensity is enough at the beginning to grab the viewer's attention but with every ensuing scene, things became bigger and bigger until the best fight is saved for the end. This not only gives the climax legitimate importance but it also shows development in both the story and the characters.
The Legend of Drunken Master's energy is a thrill to watch. It also shows why Chan is the worldwide superstar that he is. Honestly, I'm not a hug fan of Chan's overall, but this film is so good it makes me respect the rest of his work a little more. Chan creates characters that are human in their emotional core but superhuman at everything else. This creates a connection between his films and viewers that few others have ever achieved.
The Legend of Drunken Master Blu-ray Review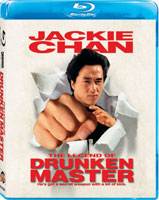 Um, why are my only options to watch this film on Blu-ray three different dubs. There's an English 5.1 DTS-HD track, a French 5.1 Dolby Digital track and a Spanish 2.0 Dolby Digital track. So where's the original Cantonese version? Add to that a murky widescreen 1080p high definition transfer and you've got a very disappointing Blu-ray debut for one of Jackie Chan's best films. The only bonus feature is an interview with Jackie Chan that runs a little under seven minutes.
The Legend of Drunken Master Gallery
Trailer